EMA Servo Actuators by HyperCyl Work for Precision Assembly Tasks
July 28, 2022
HyperCyl industrial products are available in Canada through Advanced Motion & Controls Ltd., such as the EMA series of electro-mechanical actuators. These are robust, servo-driven actuators designed for precision assembly tasks, plus applications not suitable for standard HyperCyl or IntelliCyl solutions. They are available in Roller Screw and Ball Screw configurations.
Users get a new level of price and performance for many scenarios in the automotive, aerospace, DOD, appliance, medical, electronics, and transportation sectors with this HyperCyl line.
With high performance and flexibility
The EMA series comes in load ratings from five to 230 kilonewtons and is capable of ram speeds as high as 500 millimetres per second and repeatability of 1/400 of a millimetre. These actuators offer the performance and flexibility that current and future manufacturing environments need, and full turnkey press stations are also available.
The Ball Screw models range from zero to 20,000 pounds of output force, while the units with Roller Screw configurations go from zero to 50,000 pounds of output force. Other advantages of these actuators from Advanced Motion & Controls include a standard internal non-rotate feature, a standard internal load cell, and over-travel limit switches. Another option is a standard Emerson UniMotor, or the availability to design around the individual motor specifications of the customer.
When the user mates the EMA series with the optional HyperView-Press signature analysis controller, finished product quality is improved and manufacturing expenses are lowered significantly – due to exact force/distance monitoring, trending, data logging, Cpk, and data-analysis capability. Each of these units is available as an actuator only, an actuator and drive, or an actuator, drive, and HyperView-Press package.
There are five models of the Ball Screw design, of various sizes, with weights that range from 64 to 257 kilograms (kg), and there are eight versions of the Roller Screw actuators, with weights running from 66 to 337 kg. The Ball Screw models offer 90 per cent efficiency, while the Roller Screw units range from 87 to 90 per cent in efficiency. Every one has a standard length of eight inches.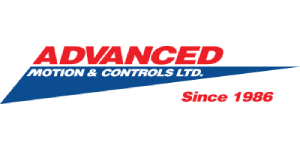 To learn more, contact Advanced Motion & Controls