Cosen Saws, Advantages of Cosen Automatic Dual Column Band Saws
Cosen Saws' automatic dual column saws provide many advantages that increase efficiency
February 8, 2023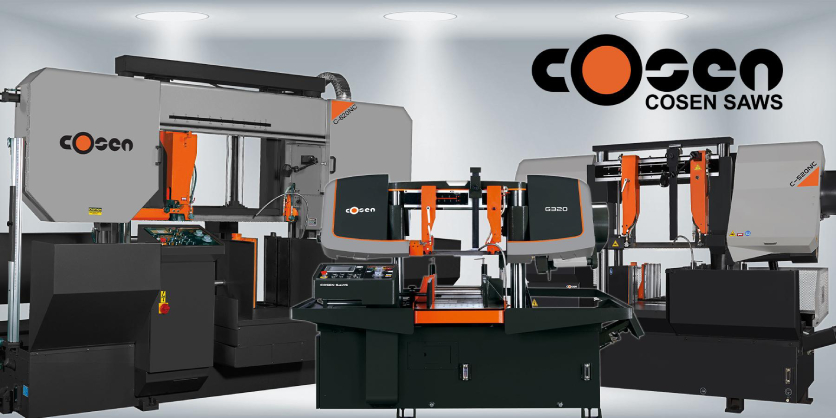 Cosen Saws, a leading manufacturer of industrial sawing equipment offers a variety of automatic dual columns band saws with round capacities ranging from 12″ to 40″. Cosen Saws automatic dual column band saws are designed to meet the demands of modern manufacturing, service centers, and the fabrication industries.
Cosen Saws line includes the G320, C-320NC, C-420NC, C-520NC, C-620NC, and other larger models. Having an automatic band saw means that production can be increased significantly. Automatic band saws can work continuously, cutting multiple pieces of material at a time, which can greatly increase the production rate. An automatic band saw can also be programmed to make precise cuts, which can help to reduce errors and wasted material. This can help to increase the overall efficiency of the production process.
Having a Cosen dual column saw over a pivot saw can offer several advantages, including:
Longevity of Machine: Dual column saws are generally more rugged than pivot saws, which can help to increase the longevity of the machine. The added rigidity and stability of the dual columns can also help to reduce wear and tear on the saw's moving parts, further increasing its lifespan.
Straightness of Cut: The added rigidity and stability of a dual column saw can also help to improve the straightness of the cut. This is because the saw blade is less likely to bend or deflect during the cutting process, resulting in a more accurate and precise cut.
Capacity and Cut Speeds: Dual column saws typically are designed to cut larger cutting cross sections of material than pivot saws. You typically will not find a pivot style saw cutting larger than a 16" round material. The reason for this is that pivot saws lack the rigidity, unlike dual column saws that have two columns for stability. This allows dual column saws to effectively cut larger or thicker materials, resulting in improved cut speeds and blade life.
V_Drive Technology: Cosen Saws proprietary V_Drive technology comes built into the automatic dual column band saws. V_Drive allows for significantly reduced cut times even for harder materials, longer blade life, reduced tooling costs per piece cut, and tighter tolerances.
Overall, a dual column saw can offer several advantages over a pivot saw, including increased rigidity, longevity, and straightness of cut, larger cutting capacity, and higher accuracy. All Cosen automatic dual column band saws are backed by a 1-year labor and 2-year parts warranty. Cosen Saws parts and service department is located in Charlotte, NC and is accessible by phone and email Monday through Friday from 8:00 AM to 5:00 PM EST.
More Information