POSITAL Introduces a New Generation of Absolute Encoders
August 21, 2023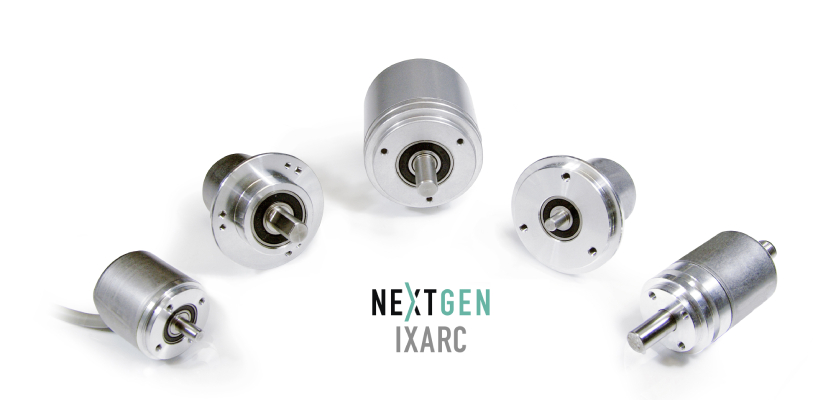 As part of its ambitious NEXTGEN initiative, encoder-maker POSITAL has introduced a major update to its portfolio of IXARC magnetic encoders. While incremental encoders based on the new technology platform have been available for several months, the company is now rolling out a new generation of single and multiturn absolute encoders. These new encoders come with improved performance (up to 18-bit resolution), improved energy efficiency, and an optimized Wiegand package featuring a newly developed ASIC that functions as the logic controller for the battery-less multiturn system. The first absolute models released through the NEXTGEN initiative come with SSI communications interfaces. Other interfaces, including CANopen, fieldbus and industrial Ethernet will be introduced over the next few quarters.
A gamechanger for the new generation IXARC magnetic encoders is the switch from Hall-effect sensors used for rotation sensing to more advanced TMR (tunneling magneto resistance) technology. TMR offers more precise measurement of magnetic field changes, lower temperature sensitivity and lower energy consumption, with the result that TMR-equipped encoders have higher resolution and more stable performance over a wide range of operating conditions. POSITAL is among the first encoder manufacturers to use TMR technology, which has already proven itself in many automotive applications
Another key innovation applied to the new IXARC encoders is the introduction of a new ASIC, designed in-house to support battery-free rotation counting in multiturn models. Each time the encoder shaft completes a rotation, a Wiegand sensor connected to the ASIC provides both a signal pulse and enough electrical current to energize the counter circuitry in the ASIC. With this self-powered counter system, every shaft rotation is accurately recorded in non-volatile memory – even if rotations occur when system power is not available. No backup batteries required! The new ASIC was developed jointly with POSITAL's sister company UBITO.
"Having our own ASIC is a giant step for us," says Christian Fell, head of POSTIAL's North American operations. "By developing our own technologies for each part of the Wiegand system, we are reducing our dependency on external suppliers and improving product availability. The more know-how and competence we build and maintain internally, the better we – the 'Wiegand Company' – can evolve our portfolio, to the benefit of our customers."

Christian Fell, head of POSTIAL's North American operations
The new multiturn IXARC encoders also include a new generation of Wiegand sensors manufactured in a new, fully-automated production facility. This facility will have an annual capacity of over one million items. The new manufacturing system is the result of a multi-million-euro investment and offers both improved product quality and more secure supply of the vital Wiegand sensors.
Despite their innovative technology, the IXARC absolute encoders introduced as part of the NEXTGEN initiative are mechanically and electrically compatible with previous models. "The NEXTGEN rollout was carefully designed to guarantee our customers a smooth transition," emphasizes Fell.
"Our rugged and versatile IXARC encoders have become a market favourite, thanks to their compact design, rugged durability and zero-maintenance, no-battery multiturn functionality," concludes Fell. "The NEXTGEN project underlines our position as a technology leader in precision magnetic encoders. We are also staking out UBITO's position as 'The Wiegand Company': the go-to source for Wiegand technology for sensing and energy harvesting."

Christian Fell, head of POSTIAL's North American operations
About POSITAL
POSITAL is a supplier of advanced industrial position sensors used in a wide variety of motion control and safety systems. The company is also an innovator in product design and manufacturing processes and a pioneer of Industry 4.0 (Industrial Internet of Things/IIoT), offering customers the benefits of built-to-order products combined with the price advantages of mass-production. POSITAL is a member of the international FRABA group, whose history began in 1918, when its predecessor, Franz Baumgartner elektrische Apparate GmbH, was established in Cologne, Germany to manufacture relays.
Since then, the company has played a trendsetting role in the development of rotary encoders, inclinometers and other sensor products. POSITAL's sister company, UBITO, specializes in the development and commercial applications of Wiegand technology, an exciting tool for event sensing and energy harvesting. POSITAL and UBITO have a global reach with offices in Europe, North America and Asia – and sales and distribution partners around the world.
More Information
NEXTGEN IXARC encoders from POSITAL
Related Product
POSITAL has launched its new WebShop for buyers of encoders, inclinometers, linear position sensors and related accessories. This service complements the company's Product Finder portal enabling customers to explore POSITAL's enormous range of product options and to purchase products online.