New Safety Locking Devices from Pilz: PSENmlock Mini and PSENslock 2 For Higher Productivity – New, Small Gate Guards: Robust and Strong
October 4, 2023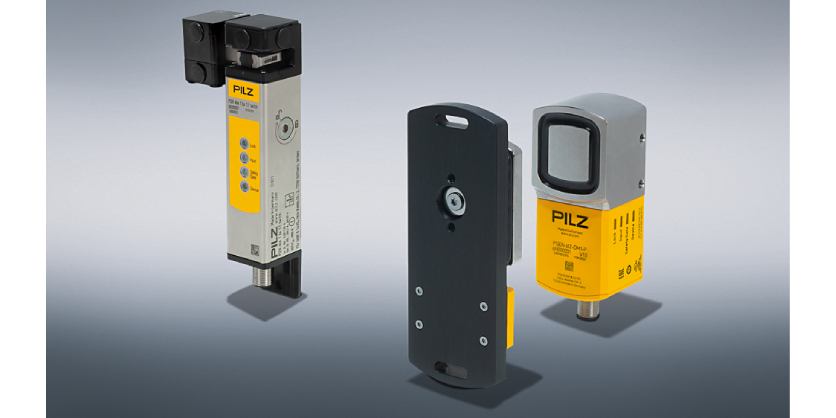 When protecting guards, there are various factors to consider, depending on the application. For example, the type of safety gate, the respective installation situation and how it is used. With this in mind, Pilz is adding two new sensors to its portfolio of safety locking devices – PSENmlock mini for space-critical applications and PSENslock 2 with optimized hygienic design, as well as new versions with stainless steel components. Both sensors offer particular benefits for the packaging and pharmaceutical industry, and for the food and beverage sector. A high level of manipulation protection and added flexibility for the user are characteristics of both safety locking devices. This has a positive impact on productivity.
With its compact design, the new safety locking device PSENmlock mini for personnel protection is ideal for space-critical applications, such as flaps or covers for example. The actuator has a wide range of mounting options, enabling a high level of flexibility during installation.

The new generation of safety locking device PSENslock 2 offers greater productivity due to robust process guarding: thanks to its robustness and protection type IP 67 / IP 6K9K, it is suitable for use even in rugged and more hygiene-critical conditions.
No space? No problem!
With its compact design of just 30x30x159 mm, you'll always find space for the safety locking device PSENmlock mini, even in space-critical applications. The safety switch manages safeguards, such as flaps and covers for example, via a safeguard locking device for personnel protection applications up to PL d, Category 3 (EN ISO 13849-1). The 1950 N holding force FZH (F1max: 3900 N), with which the "small" safety locking device reliably safeguards even higher forces, ensures a high level of robustness.
No time either? Also no problem with PSENmlock Mini!
The new PSENmlock mini can be attached simply and quickly using just two screws. It can be installed inside or outside the safeguard – to suit the application. The fact that it can be assembled quickly ultimately saves time during installation. The actuator also offers a high level of flexibility for installation, as it can be attached from the right, left and front. So even smaller swing gates and sliding gates can easily be safeguarded. As a result, there is much greater flexibility for designing machines.
Safe and energy-conscious
The dual-channel operation of the solenoid and the bistable guard locking principle guarantee a high level of safety in the event of a power failure: that's because the last state is maintained, and the gate is closed. Users also benefit from reduced energy consumption, which helps to reduce costs. The OSSD outputs detect wiring errors and immediately switch the machine to a safe state in the event of a fault, thus guaranteeing safety.
Economy included
The RFID safety switch with protection type IP 67 also offers a high degree of manipulation protection in accordance with EN ISO 14119: the coding is freely selectable – coded, fully coded or uniquely coded. An auxiliary release is integrated on two sides. What's more, PSENmlock mini can also be connected in series up to PL d, Cat. 3, minimizing wiring and simplifying commissioning. You save time and costs as a result.
In combination with the control unit PITgatebox with integrated access permission system PITreader, the intelligent diagnostic system SDD (Safety Device Diagnostics) and the safe small controller PNOZmulti 2 from Pilz, the result is a complete, economical and reliable solution for safeguarding safety gates.
Robust guard locking = higher productivity
In the PSENslock product range of safety switches with magnetic guard locking, Pilz now offers the new generation PSENslock 2, for process protection on plant and machinery. It is characterized by efficient process guard locking, even where there are robust requirements: with protection type IP67 and IP6K9K, PSENslock 2 is insensitive to dust and water. The more hygienic design prevents dust and dirt deposits.
Thanks to the flexibly mounted actuator with large contact surfaces, any tolerances that occur through safety gate misalignment or vibration are reliably offset by PSENslock 2, thus guaranteeing high availability. What's more, special versions with stainless steel components are available for more hygiene-critical applications in the packaging industry.
Reliable, powerful package
Both individually and in series, PSENslock 2 can be used universally to safeguard safety gates and is designed for use up to the highest category PL e, Cat. 4 of EN ISO 13849.
The high holding force F1max of either 1,000 or 2,000 N and manipulation protection for the RFID safety switch via freely selectable coding (coded, fully coded, uniquely coded) offer reliable process protection, because unwanted interruptions to production are prevented. That increases productivity. With the optional RFID tags, the latching force can be set quickly and simply in stages, adjusted to the respective plant and the size of the safety gate. So this intelligent safety locking device increases flexibility in the design and installation phase.
Everything and everybody safely in view
The clear display via four LEDs on both sides makes it easy for the operator to recognise the respective status during commissioning and while operation is running. Extended diagnostic options are available in combination with the intelligent diagnostic system SDD from Pilz, allowing availability to be increased even further. For applications that require safeguard locking for personnel protection, there is also a version available that safely monitors the holding force.
Suitable for industries with special requirements
Both safety locking devices offer particular benefits for the packaging and pharmaceutical industry, and for the food and beverage sector: thanks to their IP67 (IP6K9K) protection type and special stainless-steel versions for the pharmaceutical and the food and beverage sectors, both PSENmlock mini and PSENslock 2 offer the right product features for increased hygiene requirements. Also, the robustness and flexibility of the safety locking devices in the machine tool or paper processing industry, for example, guarantee reliable safety gate management.
More Information
Discover more about the products here.
Related Product
When a Safety Light curtain is required to protect a machine, the correct mounting distance of safety light curtains is just as crucial as the resolution for the proper protection and performance of the system. The mounting distance calculation is specified in the EN ISO 13855 standard. The standard defines the human approach speed in different scenarios and the calculation uses factors including the stop time of the machine, the resolution of the light curtain and the mounting height of the light curtain.