Built on Experience—New 8-inch Android Tablet Tab-Ex® 03 DZ2 for Hazardous Areas
January 12, 2022
The rugged, hazardous area-rated Tab-Ex® 03 DZ2 tablet continues the success story of the 3rd generation Tab-Ex® series. The 8″ tablet was created in collaboration with long-time cooperation partner Samsung. It impresses not only with a powerful operating system, but also with a slim and lightweight design, which facilitates work in Zone 2/22 Div. 2 hazardous areas. Samsung Desktop Experience (DeX mode) offers users a complete desktop experience by connecting a keyboard, mouse and monitor, providing a cost-effective, equivalent alternative to desktop PCs.
Mobile Device Management Made Easy
o make the (pre-)configuration, commissioning, management, and analysis of mobile devices such as the Tab-Ex® tablets as easy and user-friendly as possible for companies, ecom combines all of these services on one digital platform. Users receive preconfigured devices that are customized and ready for worldwide use upon delivery and can be managed and monitored from a central platform.
→ More about the ready-to-use service
Tab-Ex® 03 DZ2 Combines Ease of Use, Advanced Data and Device Security in One Tablet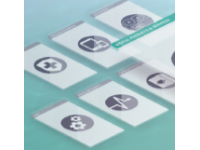 The Tab-Ex® 03 DZ2 8″ multi-touch display can be operated with gloves as well as with an included S Pen—thanks to the wet touch function, even outdoors in rain and snow. The tablet also incorporates a freely programmable red (emergency call) button, e.g. for alarms or push-to-talk (PTT). With 4 GB RAM and 64 GB ROM, it offers the ideal conditions for even faster data transfer due to additional data storage. Both data transfer and easy charging of the 4,900 mAh battery take place via the pogo pin connector. In addition to a battery life of up to 11 hours, the Tab-Ex® 03 DZ2 is equipped with a powerful 64-Bit Octa-Core processor and the latest Android 10 version. Furthermore, the Android tablet features Google ARCore for augmented reality applications. This allows the device to be used for remote support, training, and individual enterprise tools ranging from asset management to device inspection as well as predictive maintenance.
Biometric authentication and the KNOX security solution integrated into Samsung mobile devices provide users with advanced data and device security. The Samsung KNOX security system ensures that IT administrators can easily and reliably secure, deploy, and manage corporate-owned mobile devices. In this way, all corporate requirements are met throughout the entire device lifecycle and confidential data is consistently protected against malware or phishing attacks. Therefore, only authorized individuals can access corporate information, keeping data protected in the event that a device is lost.
Highlights of the Tab-Ex® 03 D2
Compact 8-inch Android tablet in slim and lightweight design, suitable for Division 2
Samsung DeX mode for full desktop experience
Advanced data and device security thanks to Samsung KNOX and the latest Android 10 version
Freely programmable (emergency) key
Operable with gloves and S Pen—even in rain and snow due to wet touch function
Global service and support from international Pepperl+Fuchs and Samsung sales specialists
To learn more about The Tab-Ex® 03 DZ2, click here