Banner Engineering: Q4X600 LASER MEASUREMENT SENSOR – High Resolution Models Now Available with Analog Output and Higher Excess Gain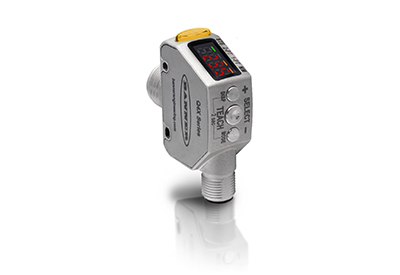 April 29, 2021
The Q4X600 high resolution models are now available with analog output and even higher excess gain to solve more applications. This versatile, rugged laser measurement sensor is available in barrel or flush mount housing. It builds upon the success of the Q4X with even higher performance and detection capabilities.
RELIABLE SENSING WITH BEST-IN-CLASS EXCESS GAIN
As a new addition to Banner's measurement sensor offering, the Q4X600 analog expands the types of applications Banner can solve. The Q4X600 features reliable sensing range from as close as 25 mm and as far as 610 mm. Increased excess gain allows this high resolution sensor to detect even darker targets than discrete models at the high end of its range. The higher excess gain expands the type of applications it can solve. Additionally, remote input allows for remote teaching, as well as laser enabled and advanced measurement modes, to expand the range of applications solved with a single sensor.
EASY-TO-READ FEEDBACK FOR MINIMAL SETUP
Q4X600 offers easy setup with an intuitive display and responsive buttons. The display provides clear user feedback for easy configuration. A bright output indicator provides high visibility of sensor operation. The LED output indicator and real-time distance feedback of analog output (0-10 V, 4-20 mA) offer simple troubleshooting, leading to reduced installation costs. Minimize set-up time with the easy-to-read, four-digit display. Use Remote Sensor Display (RSD) for remote monitoring, configuration, and storage of up to 6 programs.
RUGGED, STAINLESS STEEL HOUSING
The Q4X600 Analog expands the types of applications Banner can solve by offering a rugged, stainless steel housing that can solve a variety of challenging, distance-based applications. The compact housing fits into tight spaces with flat face option for food and beverage. The rugged design resists mechanical impact, over-tightening, and extreme vibration. Robust FDA-grade stainless steel housing for even the most demanding environments: IP67, IP68, and IP69K. Additionally, industry standard 18 mm threaded barrel housing is an option for quick installation.
Applications
– Presence/absence
– Part orientation
– Black foam on black plastic
– Shiny package detection
– Multicolor package detection
– Clear/transparent object detection
– Error-proofing part-in-place applications