Noark Electric Explains: How Do Circuit Breakers Work?
August 15, 2023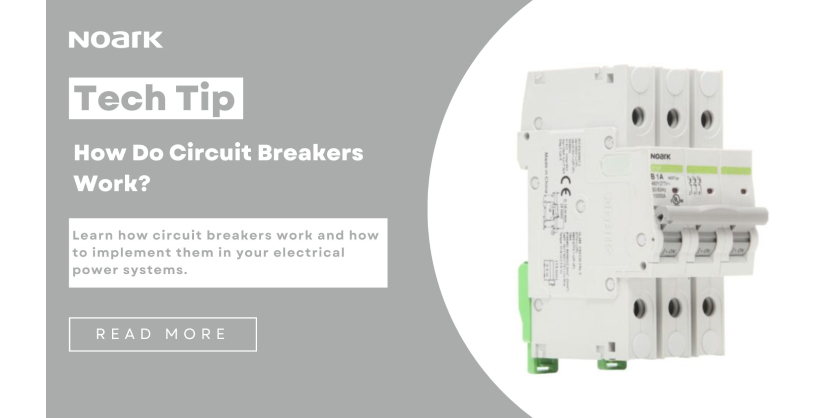 At Noark Electric, they manufacture top-quality low-voltage electrical components including circuit breakers for many applications. Circuit breakers are critical components commonly used in panelboards, switchboards, CDPs etc. for residential or commercial buildings, and industrial facilities, to protect against electrical damage caused by short circuits or overload conditions. By shutting off the flow of current upon fault detection, circuit breakers prevent hazardous electrical conditions that could otherwise prove dangerous to buildings and occupants.
What Is a Circuit Breaker?
Circuit breakers are electrical switches that automatically open a circuit in the event of short circuits or electrical overload to prevent issues such as electrical fires, damage to components or equipment which could potentially lead to loss of life or property. This process is often referred to as overcurrent protection. 
In an abnormal condition, large and excessive amount of current (also known as fault current) flows through a circuit breaker, this is known as fault condition. When this happens, the circuit breaker's contacts automatically open in milliseconds, cutting off the circuit and stopping the flow of current.
You will want to select a circuit breaker that is right for your electrical system based on your unique application. 
Some criteria to consider when choosing a circuit breaker include:
Continuous current rating
Voltage rating
Maximum interrupting capacity
Frequency
Unusual operating conditions
Product testing
Circuit Breakers Design and Components
Although there are various types of circuit breakers, they all typically consist of these five main components:
Frame. The circuit breaker's frame enables the device to handle interruptions and provides insulation for the electrical current to protect equipment and people from harm during operation.
Operating mechanism. The operating mechanism allows for the opening and closing of the circuit breaker.
Contacts. The contacts keep electrical currents flowing through the device when closed and by opening cuts off the supply.
Arc extinguisher. The arc extinguisher works to extinguish electrical arcs when the contacts open; and.
Trip unit. This component detects any unusual current flow in the event of a short circuit or overload and opens the operating mechanism when necessary.
Types of Circuit Breakers
To meet a range of needs, Noark Electric offers a variety of circuit breaker solutions, including:
UL 489 Molded Case Circuit Breakers. Their Ex9M Series circuit breakers meet UL 489, CSA C22.2 No. 5 standards and conform to IEC/EN 60947-2. In addition to molded case circuit breakers, they also offer motor circuit protectors and molded case switches.
DIN Rail Miniature Circuit Breakers. They offer DIN rail miniature circuit breakers that are UL489 Listed and UL1077 Listed Component. The UL489 miniature breakers are ideal for branch circuit protection as well as UL1077 application, whereas the UL 1077 miniature breakers are only suitable for supplementary protection; their offerings include Series B1H and B1N for UL489 applications and B1E Series for UL1077 applications.
UL 1066 Power Circuit Breakers. Their A32 and A40 Series Power Circuit Breakers are UL 1066 listed and offer unparalleled performance. It features a maximum voltage rating up to 800Vac, interrupting capacities of 100kA at 635Vac and 85kA at 847Vac. Available ampacity ratings are between 800A and 4000A in both fixed and drawout frames. In addition, their offering also includes non-automatic switches or Disconnect Switches product – ASD32 and ASD40 up to 3200A and 4000A respectively.
Benefits and Advantages of Circuit Breakers
In addition to ensuring the safety of equipment, buildings, and occupants, circuit breakers offer various other benefits, including:
They are a good replacement for mechanically operated fuses.
They are very reliable offering with several thousand cycle of operations.
These devices offer numerous functionalities, including protection, switching, measurement, communication, and control.
They are easy to reset, and brought back into service following a fault interruption.
Circuit Breakers from Noark Electric
The right circuit breakers can help to maintain safety in many buildings and facilities by preventing electrical hazards that could result from short circuits or overload. At Noark Electric, they offer a selection of circuit breakers to meet their customers' needs. 
Noark Electric's line of circuit breakers includes the following reliable products:
More Information
For more information about Noark's products and solutions, including their circuit breakers and many other low-voltage electrical components, contact them today or request a quote to get started.
Related Story
Noark is well-known for their world-class manufacturing and rigorous testing of their products that meet or exceed the highest performance standards in the industry. What should be better known is their ability to rapidly modify or produce products that satisfy their customers' unique specifications. In this article, Rob Farrell, Marketing Director of Noark Electric, and Robert McKean, Assembly Technician at the Noark Power Breaker Modification Center discuss the Mod Center and how it is expanding to better serve electrical OEMs across North America.