Welding Automation and SME's: A Beginner's Guide by Universal Robots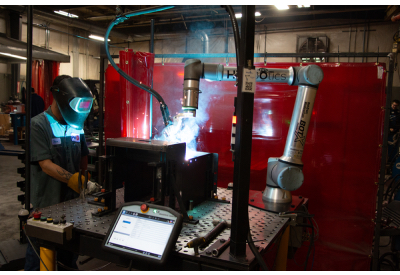 November 1, 2022
SME automation is a game-changer for the manufacturing sector, and we are entering an exciting period of innovation and adoption. Companies with under 250 employees and less than €50 million in annual turnover make up the vast majority of businesses in the manufacturing sector – and the era of SME-friendly robotics and automation solutions provides huge potential for these businesses. Collaborative robots (cobots) are one of the best tools out there. They can help manufacturing SMEs introduce automated welding in a more cost-effective way and provide an efficient way to upskill teams. Here is everything you need to get started.
A Beginner's Guide
Manufacturing is in the middle of a fundamental period of change. With labor shortages, disruptive technologies and new commercial pressures, SMEs are looking at automation to help them do more with less and scale their businesses. SME automation offers a way to eliminate time-consuming, repetitive, and potentially dangerous manual processes, enhance quality and take on more work without having to pay additional labor costs.
It's not a surprise that there has been a rise in the number of SMEs looking at using a small robotic arm to take on some of their production applications. Welding is one area where a cobot-based automation application can add real value in a relatively short space of time.
Successfully automating previously manual workflows takes planning, preparation and onboarding your team effectively. Here are clear steps for you to follow to help the implementation process go as smoothly as possible, especially if you are still relatively new to automation
What Kind of Automation Do You Need?
Before anything can happen, getting organizational buy-in from senior management and teams is essential. One mistake that a lot of companies make when looking to implement SME automation is focusing almost entirely on the technology side of the equation. But making sure your people are onboard and engaged is important too.
Next, you need to be clear about what you need from your automated SME welding solution. Your portable robot arm is a tool and to make the best use of it, you need to know what you want it to do. Your automation strategy should match your wider commercial and business strategy – such as reducing operating costs over the long-term or increasing output.
Perform a Risk Assessment
While cobots don't typically require the additional safety features that traditional industrial robots do such as safety cages, they are still machines and need to be treated with care. Our e-series of cobots come with a range of built-in safety features, but you should still consider the impact moving parts, sharp edges and welding torches will have on your workplace health and safety.
Select Your Cobot
Our e-Series cobots come with a range of maximum allowed payloads and reaches so that you can match your investment to your business needs. On the smaller end of the scale is the UR3e, which has a maximum payload of 3kg, a weight of 11.2kg, and a reach of 500mm. The UR20, on the other hand, can manage up to 20kg and has a reach of 1750mm.
Set Up Your Workspace
One of the major benefits of cobots, along with their flexibility, is how small their footprints are. When combined with the fact that you typically won't need the large-scale safety cages and other safety features associated with traditional industrial robots, this means that you might not need to completely redesign your existing workspace.
Another thing to consider is that your robot work cell is likely going to comprise of more than just your cobot arm and a table. When you consider the full welding work cycle, you quickly start to see that more components may be required. Here are some things you may need to think about:
•the power supply

•

cables and supply lines for shielding gases

•

multi-arm or linear axis for positioning
It is essential that you always prioritize safety. Automated welding applications can have great business benefits, but they don't really eliminate any of the risks associated with manual welding. There is still a risk – particularly around fume exposure, weld spatter, proximity to other hazards and the torch itself.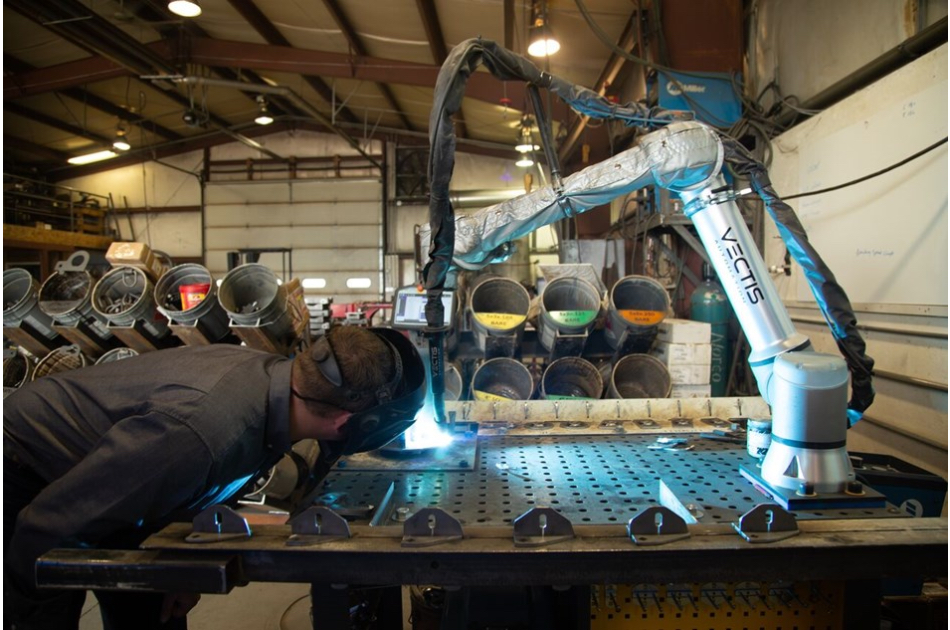 Train Your Team
Unfortunately, the narrative around automation often gets caught up around the idea that the principle role of automation is to replace human workers. At Universal Robots, we think the main role of automation is to liberate workers from the dull, dirty and dangerous tasks that have defined manufacturing for centuries. A huge part of this is utilizing your automated welding application as a training tool to upskill your workforce and build their experience in implementing, monitoring and maintaining your robot work cell.
An important part of change management is making sure you have early adopters and automation champions. These can be the individuals who really want to take ownership of the automation process, and they can be a crucial resource when it comes to drumming up interest and providing additional user training too. We believe that training is vital to the success of any welding automation project – and of course, we are happy to help you make sure you get the right results. You can access a range of introductory as well as more advanced cobot training through our UR Academy.
The Perfect Time to Start Is Right Now
Automation is no longer only something large companies can implement – it is increasingly becoming the norm across the manufacturing sector. A cobot-based welding solution can not only help SMEs operate more efficiently but become more competitive too. By following the steps laid out in this article, businesses can help maximize the value of their investment and lay the foundations for years of sustainable growth.
If you want to talk to one of our team, don't hesitate to contact Universal Robots. Visit their website by clicking here