Bringing Competitiveness to all Manufacturers by Democratizing Industrial Automation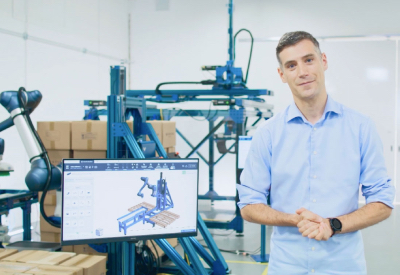 May 24, 2022
An Industry Ready for an Overhaul
We've never talked about industrial automation as much as we have in 2022. Yet, despite the chatter, most manufacturing plants in North America have little to no automation. There's a simple reason why the vast majority of manufacturers cannot profitably automate their production—because automation technology was developed (and priced) for high-throughput manufacturing. Most North American manufacturers, with high-mix production and volumes less than a few thousand units, simply don't have the scale to earn back the steep investment that traditional automation technologies command.
Today's industrial automation technology is complex to evaluate and integrate. It's so complex that the system integration services industry is worth $26B in the US alone. Combine those service costs with components priced for high-throughput production, and you get a CAPEX requirement well beyond the means of most manufacturers. Bluntly put, such a situation restricts the adoption of industrial automation and hurts our manufacturing sector's competitiveness. We believe the industry is ready for an overhaul.
The problem lies at the root of manufacturing. Most manufactured products are unique to the manufacturer and often require production equipment that is itself unique. In other words, the vast majority of industrial automation is a non-productized market, requiring custom solutions. If access to automation technology is limited only to those who can afford premium engineering services or customized integrations, incumbent component manufacturers aren't under any pressure to democratize technology. The result? A status quo that benefits current industry participants, but that leaves most manufacturers—the ones who would actually benefit from technology democratization—behind.
All industries go through phases, from complex to democratized and back again. One example is computers. We went from complex mainframes in the 1960s and 70s, too much simpler PCs in the early 2000s. We are now slowly moving toward another complexification phase with quantum computers. At each phase, new giants emerged, and some were left behind. As cloud technology, robotics, and machine vision converge, industrial automation is initiating its own phase of democratization and ushering in new players. That's good news for both the automation industry and high-mix manufacturers.
A Platform to Create the Next Generation of Industrial Automation Practitioners
This week Vention celebrated the closing of a $95M financing round led by Georgian Partners. New investor Fidelity Investment also participated, alongside existing investors such as Bain Capital Ventures and White Star Capital.
Vention's mission is to democratize industrial automation by providing a self-serve manufacturing automation platform (MAP). Our suite of cloud-engineering software and modular automation hardware acts as a virtual system integrator, enabling all manufacturing professionals to become automation practitioners.
End users can design their machines online using LEGO-like components with proven compatibility. They can program their robot cells and automation equipment code-free and simulate it in their browsers. Purchasing takes place in the same browser environment, with fast shipping options and IKEA-like delivery. Finally, deployment is conducted with software assistance, which guides users through the steps of safely powering on their machine for the first time.
Today, Vention is primarily a technology company that develops software for design, automation, and robotic systems. But the initial decision to host hardware as well, including over one thousand modular parts on our platform, is just as crucial to our core business. That's because it allowed us to generate accurate "digital twins" each step of the way. Our clients can transition seamlessly from the virtual world to the physical one, in a simple user experience that Vention is uniquely positioned to provide.
Already today, the Vention platform has reduced the costs associated with system integration services, by allowing end-users to self-serve. It has also shrunk project time from month to day, as all steps are conducted on a single digital platform.
But there is something more: Vention is upskilling workers, transforming them from people who used to operate the manufacturing floor, to people who now design the floor. Given the rising strategic importance of industrial automation, we believe these skills open up new possibilities that every manufacturer should embrace.