A Conversation with Shane Carnegie from SEW-EURODRIVE about MOVI-C
November 15, 2021
By Alyssa Kerslake
When it comes to power transmission and motion control, SEW-EURODRIVE needs no formal introduction. Counted among the industry leaders in drive technology, SEW-EURODRIVE makes drive-based automation its business. SEW-EURODRIVE, founded in 1931, is a global company that specializes in gear motors, frequency inverters, drive systems, industrial gears, and control software. SEW-EURODRIVE products are distinguished by their modular components and customer-centric philosophy. Their modular components can be built in a multitude of configurations, durable gear housings, offer flexible mounting capabilities, and provide advanced electronics that ensure equipment continuously operates efficiently.
Mechatronics Canada had the opportunity to speak with Shane Carnegie, Electronics Product Manager at SEW-EURODRIVE Canada, to learn more about MOVI-C, a modular automation system that offers a full solution for automation tasks. MOVI-C has been continuously expanding its reach into the mechatronics space, offering an encompassing solution for machine builders and integrators. Below Shane walks us through some of MOVI-C's unique features and real-world applications.
Can you explain what MOVI-C does?
MOVI-C is an all-in-one modular automation system. Building on the familiar SEW modular gear motors and previous generation inverters, we now have modular inverters, controllers and associated software which ties everything together. For example, you can have a gear box with an AC induction motor, a permanent magnet motor, or a servo motor based on your application requirements. Attached to that we can provide a motor controller which can be mounted in a panel or directly on or near the gear motor. The positioning or velocity control software can be pre-loaded into the motor controller at the factory and all that is required is to send the same standard process data words from your main PLC to the drive system to perform your desired motion. The software interface looks identical no matter what controller or underlying gear motor system is attached.
What are some of the major features that MOVI-C has to offer?
One of the major features of MOVI-C is that the MoviSuite software looks identical no matter which one of our SEW products you use. Whether you use one of our cabinet-inverters or an inverter that mounts on or near a gear motor (MOVIGEAR / MOVIMOT flexible), the parameters are in the same position in the software. This is a great feature because the learning curve is significantly reduced when using different SEW products. Another major feature of MOVI-C is that the software can use speed control, but most of them can do positioning if you have the encoders available, whether you're using an AC Motor or a servo motor. In addition, we have a number of MOVIKIT's that solve specific application problems such as tower sway, liquid sloshing, line shafting and load sharing.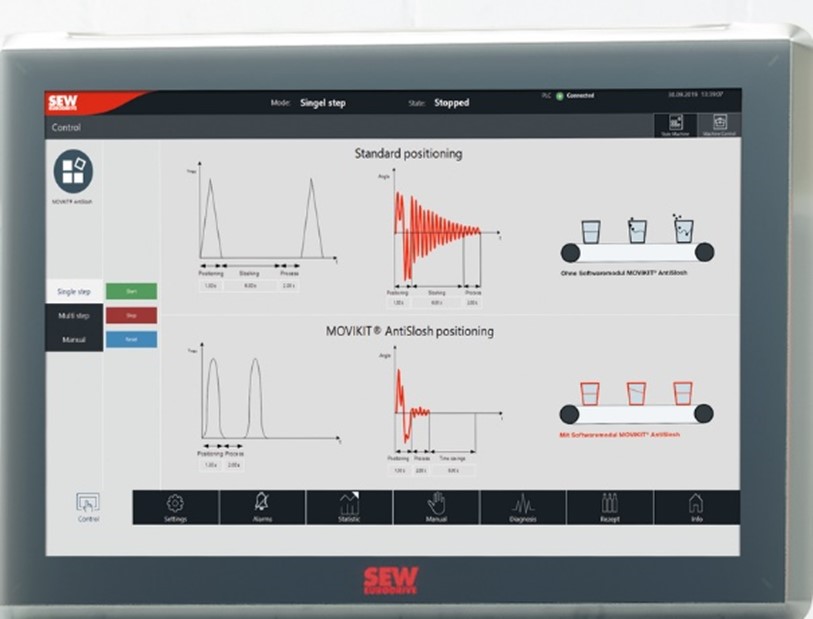 Can you provide a real-world application where speed control and positioning systems have aided in operations?
A MOVIKIT solves specific problems. Typically, most applications will use MOVIKIT Velocity or MOVIKIT Positioning. This allows the speed control and positioning, for example your conveyor or hoist. Additional interesting MOVIKIT's include the Multi-Axis controller. You can control a crane bridge drive with four motors over long distances without positive contact between the drive wheels and the rails. The Multi-Axis controller acts in a similar way to traction control and ABS braking in your vehicle. In the event of wheel slip the Multi-Axis controller MOVIKIT will prevent bridge skewing by controlling the motors to prevent this based on feedback from external laser distance measurement systems. We also have additional MOVIKIT functions that can. For more details on the MOVIKIT's visit our Online Support.
Load Sharing

What's the difference between MOVIDRIVE and MOVIGEAR/ MOVIMOT/ MOVIMOT Flexible?
MOVIDRIVE is typically mounted in a panel where you have higher power requirements and need features such as sharing a single power supply between multiple axes. For example, you can build a custom robotic application (gantry, SCARA, delta, etc.) and use any high horsepower SEW gear motor combination to move an axis. MOVIDRIVE and MOVIMOT is where the invertor sits on the motor. Typically, you use them on conveyors or in positioning applications whether you are using an AC Motor, Linear motor, Electric cylinder or Servo motor. MOVIMOT flexible is field mounted close to the motor. These work best out in the field where you do not have to think about the panel, all you have to do is run power and communications to it. This allows one to have an additional axis running.
Are there any advantages to using MOVIDRIVE and MOVIGEAR/ MOVIMOT/ MOVIMOT Flexible?
We can run our MOVIDRIVE on super capacitors or batteries. In the event of a power failure the machine can keep running because the super capacitors provide short term power. If the mains does not recover, you can use the energy in the super capacitors to move the machine to a safe position or complete a cycle (for example no cleaning in injection molding machines due to uncontrolled halt), or keep running if it's a short term power fluctuation. You can also reduce the peak demand on the power supply by using the super capacitors to provide short term power spikes.
Are there any long-term aims for SEW-EURODRIVE?
One of our long-term aims as a company has focused on digital Interfaces (Industry 4.0) and to eventually have smart boards in our gear motors to monitor various parameters. The industry has been evolving this way in the last ten years. Digital interface would allow users to detect system malfunctions using for example a vibration sensor to notify a problem before it occurs. Eventually, the plan would be to measure things like air gaps on the brakes to determine whether the brake pad has worn out and needs maintenance to avoid taking your line down during production. By using smart systems like DDI technology, you can determine how the system is running. Similar to a car, a warning light comes on, saving one from being stranded on the road when it fails. Oil quality can also be monitored. This allows complete drive management. Information is put into the database so that these gear motors can communicate which motors need immediate attention. Maintenance can be scheduled ahead of time to avoid expensive production line down time.
Over the last year, have you seen any new trends in the mechatronics industry?
People have taken on a decentralized approach, which offers certain advantages. If you have a lot of axes, then you may need a very large panel to house your inverters and long motor cable installation runs. Panels are usually custom, so modifications and additions can be difficult later. With decentralized, the equipment sits as a standard module in the field and power and communications are daisy chained together. If your machine is compact and everything is in one place, sometimes a panel may be the better solution. Or if the HP requirements are large. Ultimately, the product which needs to be used depends on the situation which will determine the best solution.

After chatting with Shane, it is clear that MOVI-C has the capability to provide a solution for numerous automation needs, including planning, commissioning, operation, diagnostics software, electronic control, monitoring devices, mechanical drives, and gear motors from a single source. MOVI-Ccan help machine builders execute standards-based single-axis or multi-axis applications, particularly those with complicated motion control applications, or customized automation solutions, and it gives you the flexibility to accomplish builds that will operate consistently and efficiently.