EV Charging Opportunities for Business: A Primer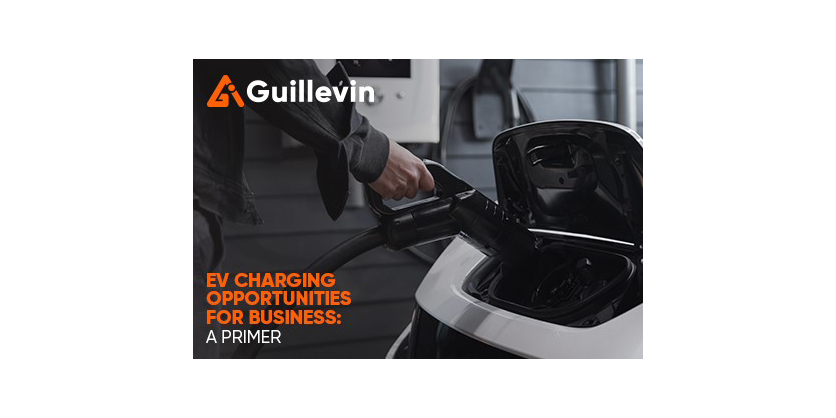 January 31, 2023
Electric vehicle charging stations are booming and can be an excellent business opportunity, given the current price of gasoline and Canada's intention to ban the sale of new gas-powered vehicles. Interested in installing an EV charging station? Guillevin's experts can advise you.
EV Charging Opportunities for Business: A Primer
Are you considering installing an electric vehicle (EV) charging station for your business? Wondering about the advantages—and possible disadvantages—of doing so? EVs are on the rise across Quebec, Canada and globally, and their popularity is only increasing. From the current price of gas to Canada's plan to ban the sale of fuel-burning new vehicles by 2035, EVs are the way of the future.
A Growing Market
You may be wondering if there really is a demand for EV charging stations—enough to install one (or more than one) at your business. There are over 140,000 electric vehicles on the road in Quebec, nearly half of Canada's total according to Quebec's Electric Vehicle Association, AVEQ. Zero-emission vehicles hit a new milestone in Canada, comprising over 5% of new vehicles registered in 2021. On top of the current market, all evidence points to a steady growth of EVs on the road over the next decade and beyond. So why not be prepared?
What are the Business Incentives for EV Charging Stations?
EV charging stations may not be an instant pot of gold. But the expense can be offset in many ways, from subsidies to alternative sources of revenue to receiving an image boost.
Federal Government Subsidies for Commercial EV Charging Stations
One major advantage of installing an EV charging station at your business is that the government is on your side. The federal government's Zero Emission Vehicle Infrastructure Program offers rebates for the installation of charging stations at workplaces and for public use, for example in a retail parking lot. Up to 50 percent of total project costs can be subsidized, with maximum amounts varying based on the type of charger and the community you're in.
Provincial Government Subsidies for Commercial EV Charging Stations
Depending on where you live, you may also be eligible for provincial or territorial subsidies for commercial charging stations. Through the Quebec government's Transportez vert program, for example, your business is eligible for a rebate of up to 50 percent of admissible expenses, up to a total of $5,000 per wireless EV charger, or $5,000 per connection for EV charging stations with one or more connections. Quebec government's recent, game-changing Programme de soutien au secteur privé pour le déploiement de bornes de recharge rapide publique is designed to support up to 80 percent of admissible expenses for businesses that install rapid EV charging stations for public use. ChargePoint's Express Plus DC rapid charging station is Guillevin's suggested model for this type of installation.
Subsidies are also available in BC, Alberta and the Yukon, with some other provinces possibly opening up more funding.
Municipal Subsidies for Commercial EV Charging Stations
Your municipality may also kick in some funding for a commercial EV charging station. While it's a relatively new subsidy and may not be available in your area, keep your nose to the ground! The city of Edmonton provides rebates for commercial charging stations in the workplace, while municipalities in Quebec like Épiphanie also offer their own incentives.
What are the Benefits of EV Charging Stations for Your Business?
It's still pretty uncommon for a business to transform its entire fleet of vehicles to EVs… for now! Even so, there are still plenty of advantages to installing an EV charging station at your place of business. First of all, it gives you a way to provide a charging station at a very low cost to your customers—think a dollar or two an hour—which in turn, gives your customers a reason to stick around.
Give Your Customers More Time to Shop
The EV charging period means killing time, perfect for perusing your shop, checking out your neighbours' businesses, and taking note of new highlights in the area. This can lead to a newer, spontaneous customer base, or simply create more customer loyalty as you provide them with a low-cost way to charge their vehicle.
Promote Your Brand as a Sustainability Leader
Investing in EV charging technology means investing in your company's image. Your customers are most likely looking into a future where sustainability and protecting our planet is key. Providing an EV charging station is a quick and easy way to send the message that you're on board with sustainable vehicles, now and in the years to come.
Earn Ad Revenue from EV Charging Stations
Another possible money-maker from installing EV charging stations at your business is ad revenue. Brands like ChargePoint feature an LED display with colour images, so you can sell ads to be shown on the EV charging station itself.
What are the Different Types of Commercial EV Charging Stations?
So, now you're convinced that installing a commercial EV charging station is the way to go. But which type? And why?
First thing to know: There are two main types of charging stations—AC and DC.
AC Charging Stations
AC charging stations are slower, but are better for a vehicle's battery in the long term. One popular model is ChargePoint's CT4000 7kW, which offers reliable AC charging for EV vehicles, ideal for a commercial charging station.
DC Charging Stations
DC charging stations, on the other hand, offer a rapid charge that is ideal for a busy parking lot, for example, or on the road where drivers will often need to charge their vehicles quickly and be on their way. ChargePoint's CPE250 is a great option.
What are the Benefits of Renting a Commercial EV Charging Station?
Upfront cost vs. lease? While buying an EV charging station means fewer monthly fees, renting also has its pluses.
You'll Be First in Line
When you rent, you're basically always at the front of the line for new tech, new charging stations, and so on. Your existing relationship with your supplier means you'll get a heads up when better, more efficient options come to market.
You'll Have More Reasonable Upfront Costs
Renting also means a more reasonable cost to install an EV charging station. With a fairly low initial investment due to the installation costs, you can install and start using a commercial EV charging station quickly, so you'll get a more timely return on your expenses.
You'll Benefit from a Five-Year Lease Option
ChargePoint offers a five-year lease to businesses looking to rent commercial EV charging stations, which means for the next five years, you'll be guaranteed the newest charging stations, trouble-shooting services as needed, and in-the-know contacts to guide you through your transition to a proud business with an EV charging station.
Conclusion: Why Install a Commercial EV Charging Station?
Commercial EV charging stations offer your business the chance to build relationships with your customers in a new way, provide your customers with a low-cost way to charge their EVs—and shop while they wait—and the potential for ad revenue directly from the charging station. What's more, your business's image will receive a boost, positioning you as a sustainability leader in the times of a global climate crisis. With demand for EV charging stations guaranteed to increase in the years to come, now is an optimal time to get on board with commercial EV charging.
Ready to take the next step? Find out more about Guillevin's commercial EV charging stations
Related Story
Recently, the Ontario government is celebrating the opening of General Motors of Canada's (GM Canada) first full-scale all-electric vehicle (EV) manufacturing plant in Ingersoll and the first BrightDrop Zevo 600s to be made at the facility. With support from the province, GM Canada has transformed its CAMI manufacturing plant into an all-EV manufacturing facility, the first of its kind in Canada. This project helps secure the province's position as a global automotive hub with the vehicles of the future being built in Ontario by Ontario workers, from start to finish.