A 'Rittal First' Webinar, Apr 15: Bridge the Gap between HVAC and Infrastructure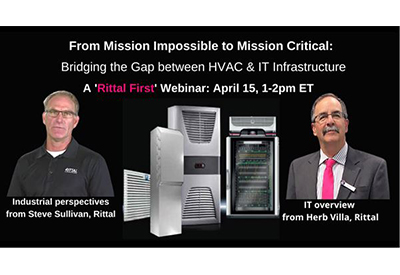 April 1, 2021
Date: April 15, 2021
Time: 1:00-2:00 pm ET
2020 will probably go down in history as being the year of ultimate challenges, but the HVAC industry experienced and kept up with those rapid changes on a daily basis. Despite the crisis, an AHR Expo and ASHRAE Journal survey showed 88% HVAC industry respondents reporting "good" or "excellent" business with a possible 5-10 percent growth. So if you want to see how Rittal can help you take advantage of this growth, then join in to sharpen up your IT & Industrial infrastructure, as well as your mission critical processes. Take your HVAC business to the next level with some cool tips from Rittal's experts. The key lies in adopting safe and connected technologies and processes that keep your infrastructure running smoothly and your business booming.
Smarter
Every industry is embracing IoT, as devices and equipment are increasingly talking to each other. Wi-Fi enabled products showcase the value of automation and speed to your customers. From self-regulation and remote temperature adjustment to integration of energy controls, connected technology offers more control than ever over energy output.
Safer
Once your devices are IoT-enabled, you are adding that extra layer of security to your infrastructure due to constant monitoring capabilities, to prevent downtime and reduce maintenance costs.
Sustainable
Energy-saving products and services with minimum environmental impact, enhance the value of your service, as customers are often willing to pay a premium price for eco-friendly products.
The global pandemic has made us all even more aware of the importance of the HVAC industry, as greater safety precautions will remain critical to the national economy. If you want to turn the 'Mission Impossible' challenge into a 'Mission Critical' differentiator for your business, join Rittal's webinar.
Register HERE.