The PILZ Group and Pintsch Gmbh Enter into A Development Partnership – Strong Partners for Safe, Digital Rail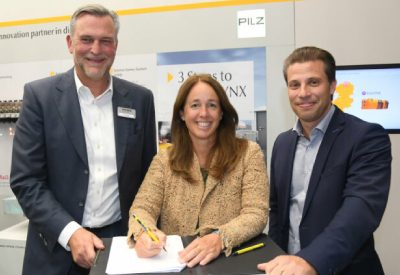 September 23, 2022
The automation company PILZ and the expert in safe rail infrastructure, Pintsch, are to enter into a long-term development partnership. In future, the companies will work together to develop solutions for the digitization of the rail infrastructure.
New, innovative solutions will emerge from the combination of industry-proven control solutions from PILZ and the safety-related rail expertise of Pintsch. In the process, PILZ and Pintsch aim to respond to the challenges of modernizing the rail infrastructure in Germany and Europe.
Two strong partners
Susanne Kunschert, Managing Partner of PILZ GmbH & Co. KG, and Tilo Brandis, Managing Director of Pintsch GmbH, sealed the development partnership on 21 September 2022, during InnoTrans in Berlin.
"With the 'Digital Rail for Germany' program and the planned investment from the Federal German government, the demand for innovative, digital solutions is set to rise consistently. With Pintsch, we are delighted to have one of the most renowned and experienced partners at our side, enabling us to develop and supply further solutions for safe, digital rail infrastructure", explains Susanne Kunschert, adding: "This cooperation is an important success for our newly founded Business Unit Rail."
"Digitization and automation of signaling technology is a basic requirement for increasing the capacity of the rail infrastructure. By cooperating with PILZ, Pintsch is exploring new horizons", adds Tilo Brandis. Pintsch is one of the leading suppliers of safety-related components, systems, and solutions for rail infrastructure.