Nanomotion Launches NEW Standard Stage Catalog And Website Quoting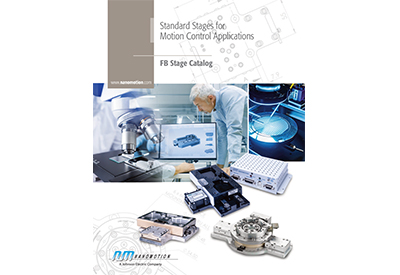 January 14, 2021
Motion control applications continue to challenge manufacturers to improve performance, lower costs and reduce delivery times. To meet the increasing demands of precision motion control requirements, leveraging standard motion axes can provide an optimal solution in a competitive environment.
Standard stages available for linear, rotary, vertical Z-wedge and tilt/goniometric motion.
Standard stages for ambient & vacuum/clean environments
While manufactures prefer to avoid the "commodity" label, applications in semiconductor inspection, medical diagnostics and analytical instrumentation can benefit from a diverse offering of standard stages, configurable into unique solutions. Consider a family of standard stages that are offered for ambient and vacuum environments, provide variation in motor speed/force, and can be configured with position resolution to 10nm. And, in addition to performance, consider that these precision stages provide linear, rotary, Z-wedge vertical, and goniometric tilt axes.