Festo Joins the Siemens Industrial Edge Ecosystem
App Store for industrial customers
October 24, 2024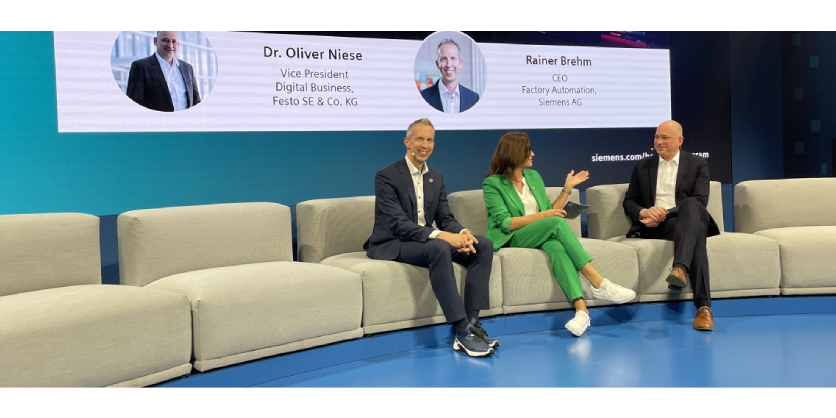 Festo is offering the Festo AX Data access app, effective immediately, on the Siemens Industrial Edge Marketplace
Siemens Xcelerator, the open digital business platform, creates an open ecosystem for collaboration between customers, Siemens, and certified partners, from large technology companies to independent software developers. Festo and Siemens announced their latest partnership at this year's Hannover Messe trade fair. Festo has joined the Industrial Edge Ecosystem. To kick this off, Festo is offering the Festo AX Data access app, effective immediately, on the Siemens Industrial Edge Marketplace, where industrial customers can purchase numerous apps from different providers. The integrated IoT solutions based on these apps offer customers greater productivity, flexibility, and sustainability.
Siemens launched the independent, cross-vendor app store for industrial customers in October 2021. This marketplace is based on the Siemens Industrial Edge platform. It uses edge computing to process data right at its source, such as on an industrial PC in machines or plants. Effective immediately, Festo is offering data-driven AI solutions from the Festo Automation Experience (Festo AX) portfolio on the marketplace.
Breakthrough for digital solutions in manufacturing
"We're pleased to offer our Festo AX Industrial apps on the Siemens Industrial Edge platform as part of our partnership," says Dr. Oliver Niese, who heads Digital Business at Festo. "This gives Festo an additional sales channel for industrial customers in the areas of mechanical engineering and production. Users benefit from the opportunity to purchase apps from different providers in a single place, to install them and run them at the machines on the shop floor." Another customer benefit is the wide range of software components that can be integrated into production in a standardized way. IoT solutions can even be scaled across lines and factories, thus considerably reducing manual software maintenance.

Dr. Oliver Niese, who heads Digital Business at Festo
"At Siemens, we want to add even more partners to the Industrial Edge Ecosystem, especially those in the field of automation," says Rainer Brehm, CEO of Factory Automation at Siemens. "A larger selection increases flexibility for our customers, who can build individual IoT solutions from Siemens and partner modules (Industrial Edge apps and devices). We create the greatest value for our customers when we work together across company boundaries."

Rainer Brehm, CEO of Factory Automation at Siemens
Analyzing data
Festo launched its Industrial Intelligence portfolio with the Festo AX Data Access connectivity solution, which feeds data from Festo components into Siemens Industrial Edge to supply analysis applications with data. Customers can build a monitoring solution based on the data and thereby improve maintenance processes, lower their energy consumption, and improve quality. Additional industrial apps from Festo are expected to be available on Siemens Industrial Edge, such as AI-based wear prediction for pneumatic drives.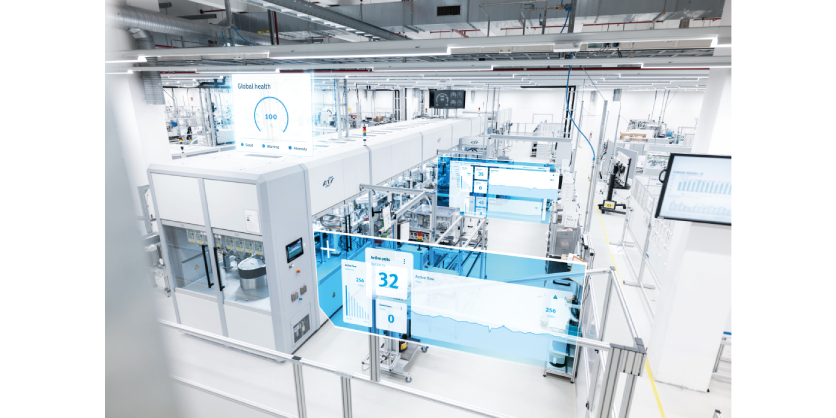 Self-service solution improves flexibility
Festo AX Industrial apps like AX Data Access are building blocks that can be combined with other applications from Festo, Siemens, and third parties to form larger solutions. They enable production employees to independently build digital solutions for optimizing productivity. The partnership allows Festo and Siemens to support their customers on the path to becoming more sustainable, more flexible, and highly efficient.
Siemens AG (Berlin and Munich) is a technology company focused on industry, infrastructure, transport, and healthcare. From more resource-efficient factories, resilient supply chains, and smarter buildings and grids, to cleaner and more comfortable transportation as well as advanced healthcare, the company creates technology with purpose adding real value for customers. By combining the real and the digital worlds, Siemens empowers its customers to transform their industries and markets, helping them to transform the everyday for billions of people.
Siemens also owns a majority stake in the publicly listed company Siemens Healthineers, a globally leading medical technology provider shaping the future of healthcare. In addition, Siemens holds a minority stake in Siemens Energy, a global leader in the transmission and generation of electrical power. In fiscal 2022, which ended on September 30, 2022, the Siemens Group generated revenue of €72.0 billion and net income of €4.4 billion. As of September 30, 2022, the company employed around 311,000 people worldwide. Further information is available on the Internet at www.siemens.com.
Related Story
Oliver Jung (61) will leave his position as Chairman of the Management Board of Festo SE & Co. KG as planned on expiry of his current mandate. The Supervisory Board has appointed Thomas Böck (52) as his successor. Mr. Böck will join the family-owned company as the new Chairman of the Management Board on 1 January 2024.