Back by Popular Demand: Apac Virtual Cobot Expo 2021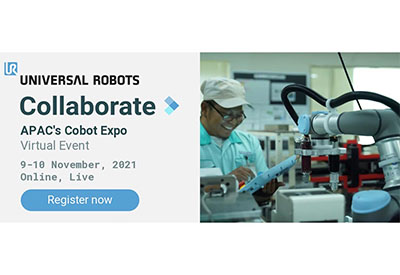 October 27, 2021
On 09 and 10 November, Universal Robots will once again host the largest virtual collaborative robot (cobot) exhibition in the Asia Pacific (APAC) region – Collaborate APAC – Cobot Expo. This year's theme is entitled 'Collaborate' and will feature some of the company's prominent global spokespersons as part of an informative panel discussion.
Universal Robots President Kim Povlsen will deliver his first keynote in Asia Pacific since being appointed to the position earlier this year. He will be joined by Regional Director for Asia Pacific James McKew to delve into the topic of redefining automation. The session will be facilitated by Australia New Zealand's Senior Technical Support Specialist, Ian Choo.
"Last year's expo, WeAreCobots, featured 15 insightful keynote sessions, 15 exhibitors and daily live product and application demonstrations. Due to popular demand, we are back for another round in 2021, and this time we go deeper into detail about how cobots are implemented in end of line automation" says McKew.
This expo is geared towards manufacturers and potential users of robotics, ecosystem partners as well as system integrators. It is designed to evoke real-world conversation around the future of automation – both regionally and internationally.
"This year our message is clear: automation is about collaboration and automation is empowering change across the globe. Both locally and internationally, the winds of change are upon us and those who aren't paying attention are going to be left behind."
Visitors to the expo will discover new concepts and approaches to automation involving human-robot collaboration, take a deep dive on successful cobot deployments, and exchange ideas among industry automation colleagues and Universal Robots' cobot experts over live chats.
KEY TAKEAWAYS FROM THE EXPO
McKew highlights the following key takeaways from their panel discussion at the expo as follows:
1. Learning about the main challenges facing the manufacturing industry in our region and elsewhere.
2. Understand Universal Robots' approach to engineering to drive innovation and customer success.
3. Knowing why the approach of a collaborative platform is key to the future of automation.
Take your pick of 12 keynote sessions over the two-day period. The expo will be available on-demand until 31 December 2021.