Festo's Bionic Learning Network: New Impulses for Factory and Process Automation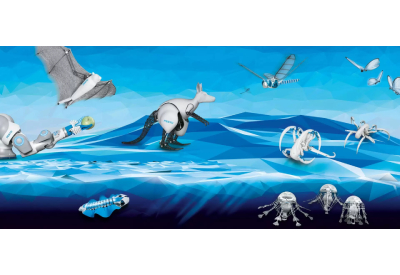 November 29, 2021
In everyday factory operations, automation technology performs typical tasks such as gripping, moving and positioning goods, and controlling and regulating processes. Nature solves all these tasks naturally, simply, and energy efficiently. What could be more logical than to examine these natural phenomena and learn from them? This is why in 2006 Festo set up an international research network linking themselves to well-known universities, institutes, development companies, and private inventors to create the Bionic Learning Network. Learn more about the network and click your way through our future concepts of recent years.
Who's behind the Bionic Learning Network?
Participants in the Bionic Learning Network – interdisciplinary teamwork
Since the beginning of the 1990s, we have been working intensively on the subject of bionics – the transfer of natural mechanisms and principles of action to technology. With the founding of the Bionic Learning Network in 2006, a lively and open exchange has been established in cooperation with renowned universities, institutes, and development companies.
Our core team consists of engineers, designers, computer scientists, biologists, robot specialists, and students. They work closely with experts from other divisions and external partners from all over the world. This open, interdisciplinary teamwork offers new perspectives and inspiration for industrial applications and possible standard products for the future.
Inside Festo: Core Team Bionic Projects, Research and Development, Product Management, Testing, Product Development, Product Design, Trade Show Stand Construction, Corporate Design …
Universities and institutes: Berlin Technical University, Delft University of Technology, Ilmenau Technical University, Friedrich Schiller University Jena, Christian Albrechts University Kiel, University of Art and Industrial Design Linz, University of Oslo and Akershus, Department of Product Design, University of Applied Sciences Ravensburg-Weingarten, University of Stuttgart, CIN University Tübingen, University of Ulm, Fraunhofer IPA …
External companies: aeroix GmbH, Ebert Zobel Industrial Design GbR, Effekt-Technik GmbH, Evologics GmbH, JNTec GbR, Nnaisense SA, Sachs Engineering …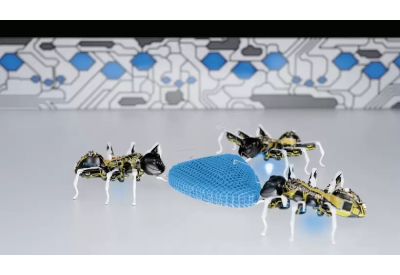 What do we want to achieve with bionics?
The goals – more than just developing new technologies
Motivate, inspire, enthuse, and kick-start innovation – as a technology leader and a learning company, we are pursuing a set of clear objectives with the Bionic Learning Network:
Establish networks and motivate people from different sectors to develop their ideas with us
Keep track of current trends in research and development and test new technologies and manufacturing methods
Increase creativity in solution processes and drive preliminary product development through prototyping
Discuss possible solutions with our customers and partners and obtain customer feedback about issues related to innovation
Show our solutions expertise in an appealing way in order to inspire young people for technology and to find new talents
How do you benefit as a customer?
Development partner Festo – driving force for customer innovations
The future concepts of the Bionic Learning Network function act as development platforms which combine a whole host of technologies and components – from manufacturing concepts and series products in use right through to software and control technology.
Continuous optimization of the individual technologies means that we acquire in-depth knowledge and innovative approaches to developing and improving new products and applications together with you. The know-how gained from this makes us the number-one partner for our OEM customers in a wide range of industries and requirements.
With the right components and solutions, services and expertise, we support your product development right from the start and accompany you from market analysis, function simulation, and prototypes to efficient and productive series production.
For more on Festo's Bionic products, click here