Humber Students Golden at Skills Canada
July 27, 2023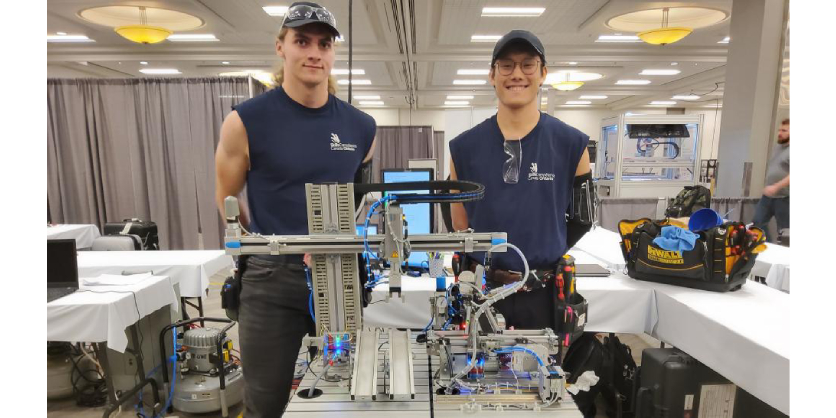 Paxton Coghlin and Dillon Kong won gold in the Mechatronics (Team of 2) division and have qualified for WorldSkills
By Chris Clay on July 19, 2023
A pair of Humber College students have captured gold and a Best of Region Award at the Skills Canada National Competition.
Paxton Coghlin and Dillon Kong, students in the Electromechanical Engineer Technology program, returned home from Skills Canada in Winnipeg with a gold medal in the Mechatronics (Team of 2) division. They also received the RBC Best of Region Award for Ontario, which comes with a $1,500 prize.
"It's nice knowing all our hard work paid off," said Kong. "The Humber teams have been doing really well at Skills for a long time so being able to keep that legacy of success alive was exciting."

Dillon Kong, Second Year Student, Electromechanical Program at Humber College
Mechatronics is building automated systems for industry using mechanics, electronics, pneumatics, and computer technology.
The two have been partners since last November. That partnership has proven fruitful as they finished first at Skills competitions at the Humber, provincial and national levels.
Having to work in pairs adds an interesting wrinkle to the competitions, however.
"It's definitely a unique experience because we need to rely on the other person," said Coghlin.
At Skills Canada, the two were handed a booklet and parts and had to put together an assembly line system that could identify and process items. Organizers didn't supply the teams with all the parts they needed at the outset, citing a mock supply chain issue, but the Humber team was able to navigate the challenge without much issue.
With the golden win, the two have qualified for the WorldSkills Competition, which is happening in Lyon, France in September 2024. The duo's goal from the start has been to qualify for WorldSkills and they're going to stay sharp by training at the Barrett Centre for Technology Innovation as they wait for next year's event.
"Skills competition at the world level is a completely different game," said Kong. "We've been training for WorldSkills since the beginning."  

Dillon Kong, Second Year Student, Electromechanical Program at Humber College
Mateusz Cwalinski is a Skills coach and technology developer at Humber and has been coaching the pair from the beginning. He said both Kong and Coghlin have been working diligently towards their goal of qualifying for WorldSkills and he feels their drive, determination and work ethic has served them well.
Humber teams have previously won gold at WorldSkills Americas and the highest the College has finished at the WorldSkills Competition is third place.
"I have no doubt they will show their best and will come in near the top if not win gold," said Cwalinski. "Having a year in advance of the competition will be a huge benefit as it will allow them more time for training and research and to potentially find some sponsors as well."
Neither Kong nor Coghlin took part in Skills prior to attending Humber with Coghlin saying his focus was on his education and future career. But, after being introduced to it, both are glad they got involved.
"It's definitely something I enjoy and have a lot of fun with," said Coghlin.

Paxton Coghlin, First Year Student, Electromechanical Program at Humber College
More information about the WorldSkills Competition can be found at the event's website.
Related Story
Since 2004, Humber students have dominated the Provincial, National, and World level competitions, winning 45 medals. The Skills Mechatronics Room is adorned with ribbons from previous year's competitions. When asked how he planned to accommodate more banners in the future as space is getting tight, Neal Mohammed, Director of the Barrett Centre for Technology Innovation, said "We will start putting them back-to-back."