Humber Students Win Intra-Provincial Mechatronics Skills Competition
Dillon Kong and Paxton Coghlin Will Compete at 2023 Provincial Skills Ontario Competition
March 10, 2023
By Krystie Johnston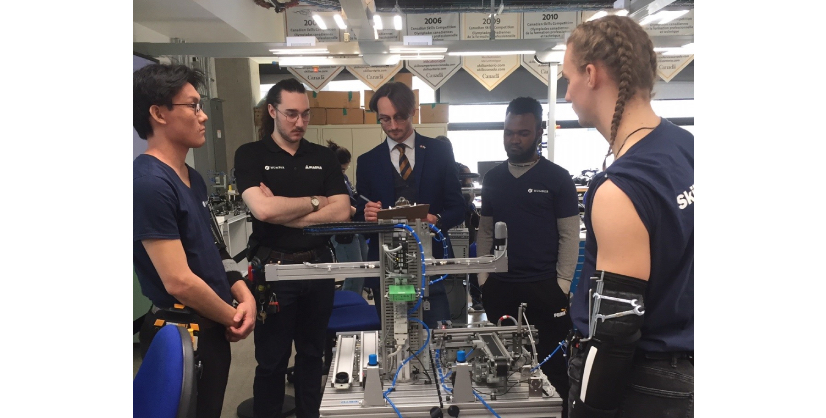 On February 17, students competed at the Humber Skills Varsity Qualifying Competition in the Mechatronics category at the Skills Mechatronics Room, located on the second floor of the Barrett Centre for Technology Innovation. The event lasted most of the day, with organizers and competitors arriving before the event kicked off around 9:00am and wrapped up early evening as teams tapped out and were judged.
The goal of the contest was to provide competitors with the opportunity to demonstrate the skills and knowledge that every technician must have in the field of Industrial Automation and Control Technology. It also gave the winning team the opportunity to represent Humber College at the upcoming provincial Skills Ontario Competition.
Seven teams of students raced against the clock to build automation factories and production systems and demonstrate their skills in automation, mechanical building, electrical wiring, troubleshooting, speed execution, PLC programming, and professional practice. Every team showed confidence and cooperation, and of the 14 students who competed, three were women, showing a presence of women in STEM (Science, Technology, Engineering, and Mathematics).
Since 2004, Humber students have dominated the Provincial, National, and World level competitions, winning 45 medals. The Skills Mechatronics Room is adorned with ribbons from previous year's competitions. When asked how he planned to accommodate more banners in the future as space is getting tight, Neal Mohammed, Director of the Barrett Centre for Technology Innovation, said "We will start putting them back-to-back."
Mechatronics Canada and the Humber Community watched as teams worked away quietly to complete their work, literally assembling a mechatronic system before our eyes. A clock ticked away, and judges watched every aspect of their work. Several notables attended the event, including Ann Marie Vaughan, Humber President, Neal Mohammed, and representatives from SEW-Eurodrive and Magna International, long-time partners and sponsors of the event.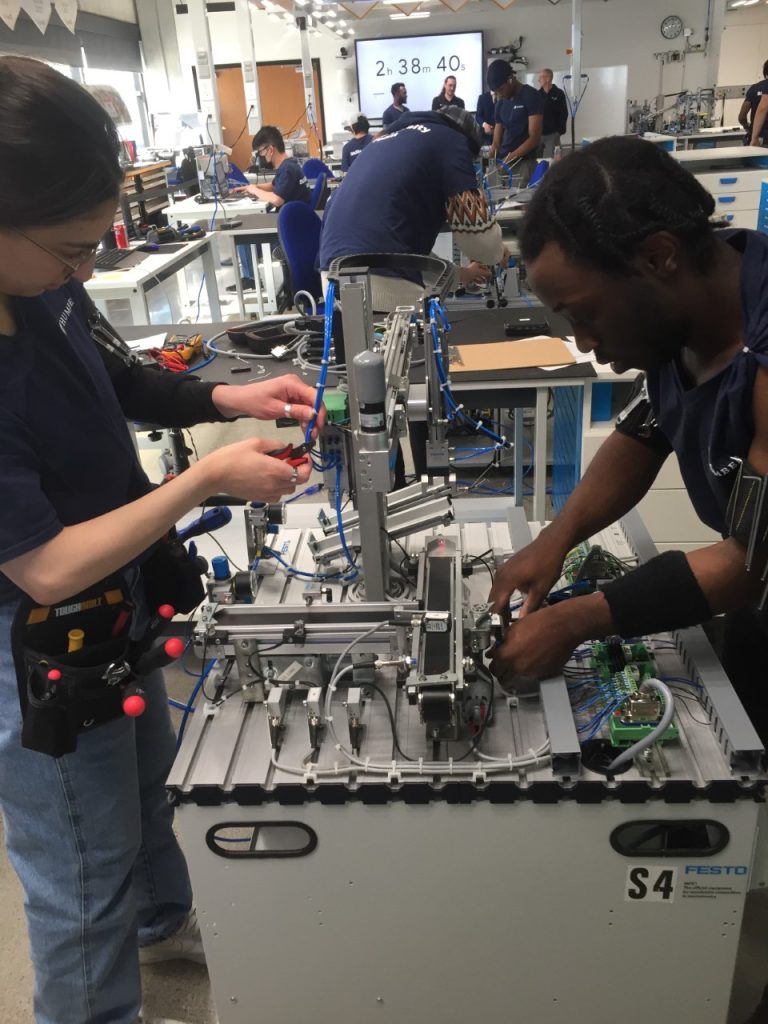 Teams worked through various challenges including a power disruption, broken or missing components, and challenges with interpreting the rules, as well as general troubleshooting that occurs when working on electromechanical systems. It was impressive to watch the students not only handle the pressure but excel with these challenges.
The day wrapped up as teams finished and were assessed in turn by a panel of judges. They were judged according to four categories: professional practice (20 points), time– effectiveness (20 points), mechanical/electrical/pneumatic conformity (20 points), and expected functionality (40 points), for a total of 100 points.
The first team to finish were Dillon Kong and Paxton Coghlin, both current students in the Electromechanical Program at Humber College. Kong, in his second year, and Paxton new to the program, were proud of their work. The winners were not announced on the day of the competition – instead the judges and sponsors took a few days to assess the results and prepare for a rewards ceremony.
This is not the first time Kong has competed in this competition – and won. In fact, he placed first last year. When asked about what wining this competition would mean to him, Kong said, "It is a small step on our road to win. The way the skills competition works is, we must win here, and then we get to go to provincials. Provincials would be good, it would be fun, but it's just within Ontario. Winning the provincials is a much bigger deal to us. That would let us represent Team Ontario against the other Provinces. Then, hopefully, we get to go to Lyon, France." Lyon is where they will be hosting the 47th World Skills Competition.
Humber College has a history of its students going on to win at the World Skills. Emma Kilgannon graduated from Humber's Baking and Pastry Arts Management program in April. She won bronze at the WorldSkills Competition 2022 Special Edition in the fall and previously won gold in the Pâtisserie and Confectionery division at the Skills Canada National Competition last May.
It is evident that the College is making strides to prepare their students for the future of work. Coghlin, who is new to the program, has been able to hone his skills in Electromechanics in just a handful of months. His mastery was not handed to him – it has come with a lot of hard work. He and Kong practice their skill seven days a week, whenever their schedules allow it.
"I started with minimal knowledge and now I am competing in the Mechatronics competition. I do not think you need a ton of knowledge to get started. You just need to like what you are doing."

Paxton Coghlin, First Year Student, Electromechanical Program at Humber College
When asked what they would say to someone considering this program, both Kong and Coghlin agreed that you need to enjoy what you are doing. They also both said that it was their teachers who turned them on to pursuing a career in the trades. Almost simultaneously, they both cited their Program Coordinator as a mentor who made a lasting impression on them and solidified their interest and engagement in the skilled trades.
"We have really good teachers. Incredible teachers. This trade is difficult if you don't enjoy it. The teachers are the ones who got me into the skills."

Dillon Kong, Second Year Student, Electromechanical Program at Humber College
On March 6, it was announced that Dillon Kong and Paxton Coghlin were the winners of the Humber Skills Varsity Qualifying Competition in the Mechatronics category and will be going on to represent Humber College at the provincial competition. Congratulations Dillon and Paxton! Best of luck with the provincials!
More Information
Related Story
Recently, at Humber College's North Campus, the Schulich Foundation announced the establishment of the Schulich Builders: Scholarships for Skilled Trades, Canada's largest skilled trade scholarship program