Schulich Builders: Scholarships for Skilled Trades is the Largest Skilled Trade Scholarship Program in Canada
Humber Helping to Train the Next Generation of Tradespeople with Support of The Schulich Foundation
February 10, 2023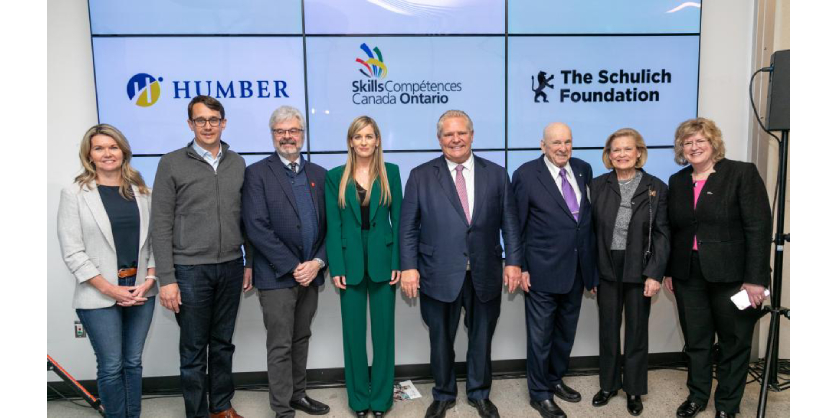 Recently, at Humber College's North Campus, the Schulich Foundation announced the establishment of the Schulich Builders: Scholarships for Skilled Trades, Canada's largest skilled trade scholarship program.
Recognizing a decline in the number of skilled workers in Canada, particularly tradespeople, Schulich Builders Scholarships address the workers shortage by amplifying the importance and value of pursuing a career in the skilled trades through financial and leadership support.
The Polytainers Atrium at the Barrett Centre for Technology Innovation was filled with dignitaries and special guests – including Premier Doug Ford, Minister of Labour, Immigration, Training and Skills Development Monte McNaughton, Minister of Colleges and Universities Jill Dunlop and Minister of Education Stephen Lecce – on February 9 for the announcement that hopes to have a transformative impact on the jobs market.
In total, 10 Ontario colleges have signed on to the program: Algonquin, Centennial, Conestoga, Durham, Fanshawe, George Brown, Humber, Loyalist, Mohawk, and Sheridan. Each college will award 10 scholarships each year to students enrolled in a full-time skilled trades program. Five scholarships worth $20,000 are intended for students enrolled in a one-year certificate program, while another five valued at $40,000 over two years are directed for students in two-year diploma programs.
The Schulich Builders scholarships will cover tuition, tools and living expenses for students. Some of the programs eligible for a scholarship include Carpentry and Renovation Technician, Heating, Refrigeration and Air Conditioning Technician, Baking and Pastry Arts Management, Furniture and Cabinetmaking Techniques, Plumbing Techniques, among others.
Emma Kilgannon graduated from Humber's Baking and Pastry Arts Management program in April. She won bronze at the WorldSkills Competition 2022 Special Edition in the fall and previously won gold in the Pâtisserie and Confectionery division at the Skills Canada National Competition last May.
In high school, she thought she would go to university to study Food Science with an eye on working in the nutrition industry one day. However, Kilgannon competed in a Skills Ontario high school competition, and it was an amazing experience. It opened her eyes up to exploring a career in the skilled trades.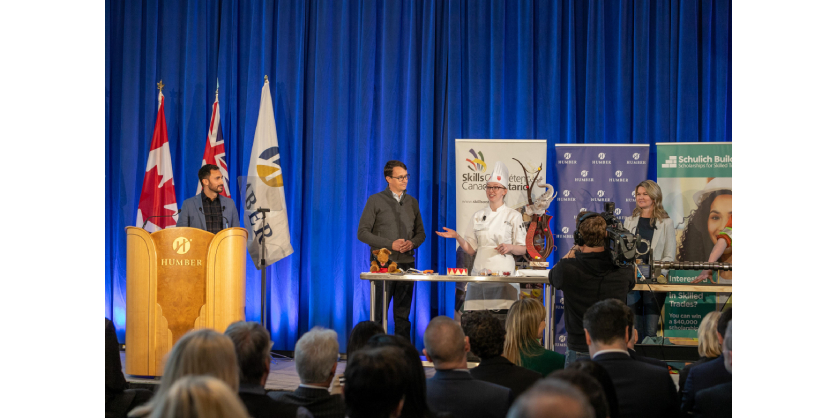 "What I realized is that I had a talent for baking, and I wanted to pursue that instead of getting a job where I might have had to sit at a desk all day," said Kilgannon. "I'm so happy I did because I love what I do, and I'm excited to go to work each day."Emma Kilgannon
At the announcement, Kilgannon put on a demonstration of how to decorate an entremet (a multi-layer cake dessert). Earlier in the day, she and Premier Ford decorated a cake together with the Premier later joking he would teach her how to make his famous cherry cheesecake.
"The Schulich Builders scholarship will be a gamechanger for so many students, and supports our government's ongoing work with business, labour, colleges and universities to attract more young people into the skilled trades," said Premier Ford. "We're bolstering our skilled workforce to build the roads, highways, schools and hospitals our growing population needs."Premier Doug Ford
Premier Ford noted that by 2026, one in five job openings in the province will be in the skilled trades while Minister McNaughton shared that there was a 29 per cent increase of women in the skilled trades in Ontario year over year.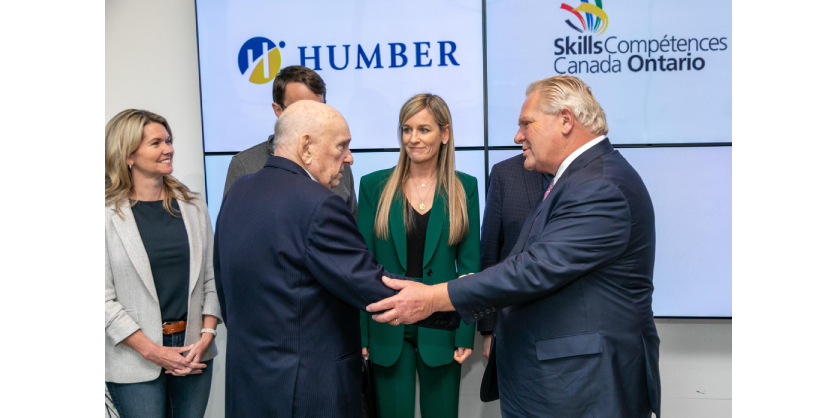 The Schulich Foundation recognizes the strong demand for skilled workers and that there's a need to address the shortage by attracting young people to enter a trade.
In the first year of operation, more than $3 million is committed through the program to combat labour shortages and highlight the importance of skilled trades.
"We are proud to promote the skilled trades and support students pursuing this rewarding career path," said Judy Schulich, executive vice-president, The Schulich Foundation. "Canadians rely heavily on the trades to build and maintain infrastructure critical for prosperous communities. Our challenge today is not having enough of these talented people to meet the demand."Judy Schulich, executive vice-president, The Schulich Foundation
Schulich received a standing ovation from the audience following her speech.
In addition to financial support, the program also provides leadership training and mentorship to set graduates up for success. It seeks to build awareness about job opportunities in skilled trades and boost recruitment while helping students finish their program so they can find employment in their industry upon graduation.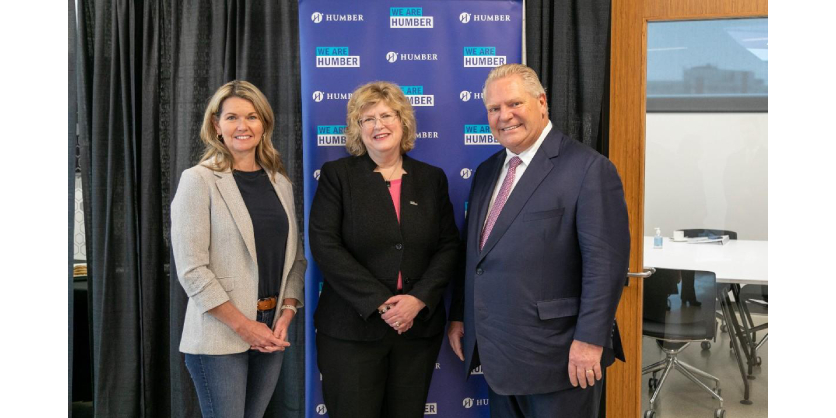 "Skilled trades are a critical part of driving the Ontario economy forward and Humber is proud to prepare students for these careers," said Humber president and CEO Dr. Ann Marie Vaughan. "We are pleased that The Schulich Foundation shares this commitment and is providing a competitive advantage to students pursuing these important jobs of tomorrow. As prominent leaders, The Schulich Foundation's efforts will raise the profile for skilled trades occupations in Ontario." Priority for Schulich Builders scholarships will be given to students nominated by their high school. Students may also apply directly through participating colleges.Humber president and CEO Dr. Ann Marie Vaughan
"Ontario is facing the largest labour shortage in a generation, which means when you have a career in the skilled trades, you have a career for life," said Minister McNaughton. "With The Schulich Foundation's skilled trade scholarship program, they are helping to attract and prepare a new generation of skilled trades workers here in Ontario for better jobs and bigger paycheques."Minister of Labour, Immigration, Training and Skills Development Monte McNaughton
Humber's Centre for Skilled Trades and Technology is training the next generation of skilled trades workers by taking students beyond a traditional classroom and providing hands-on practice in a simulated worksite. On -site facilities include plumbing, carpentry, electrical, millwright, welding, industrial woodworking, construction and renovation labs.
More Information
Schulich Builders Scholarships for Skilled Trades
Related Story
Humber College is the recipient of a $30 million gift from the Barrett Family Foundation, marking the largest single donation made to an Ontario college. Combined with their donations to Humber's Unlimited Campaign, the Barrett Family Foundation has given a total of $42 million, making their donation the largest in Canadian college history.