Augmenta Emerges from Stealth Mode and Raises US$4.1 Million in Seed Funding to Automate Building Design for the Construction Industry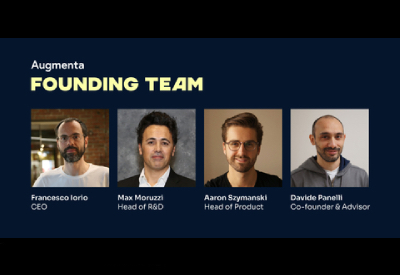 June 27, 2022
Augmenta Construction Platform enables contractors and engineers to design fully-detailed, code-compliant, and constructible designs in hours rather than weeks or months.
Augmenta is founded by the ex-Autodesk team that pioneered Generative Design. The team has decades of experience in advanced manufacturing and robotics, and is now bringing that same level of sophistication, productivity, and automation to the construction industry by automating building design. Today, Augmenta announced it has emerged from stealth mode with US$4.1 million in seed funding. (Graphic: Business Wire)
Augmenta, the company automating building design for the construction industry, recently announced it has emerged from stealth mode with US$4.1 million in seed funding to bring to market its design platform for the construction industry. The round was led by Hazelview Ventures with participation from Ferguson Ventures and Whiteshell Group Inc. The funds will be used to accelerate the development of the Augmenta Construction Platform (ACP); launch a pilot program for the Electrical System Design (ESD) module – the first of several solutions that have been built on Augmenta's automated design platform; and grow the Augmenta team across sales, deployment, and customer support.
In the construction industry today, legacy tools and processes used for designing complex building systems like electrical, plumbing, and HVAC make it extremely difficult and time consuming to ensure designs are feasible for construction. Combined with time and resource pressures, this leads to errors that require significant rework, slowing down both design and construction and substantially increasing risk, uncertainty, and costs for contractors and engineers – and in turn real estate developers and owners. At a time when the industry faces talent and material shortages, and pressure mounts due to the inherent complexity of building design, Augmenta is providing innovative new technology to solve these challenges. Based on early customer trials, Augmenta is delivering enormous time and cost savings by bringing generative design to the construction industry. Through its technology platform, Augmenta is automating the entire design process for contractors and engineers, ensuring the designs they create are error-free, constructible, and optimized according to client needs, and created in hours instead of weeks.
Building designs produced using ACP are also sustainable. Since they are fully detailed, coordinated, and optimized, contractors can use less material in their designs, order only what they need, and significantly reduce wasteful errors and rework. Additionally, ACP optimizes building systems designs to ensure they use less energy and resources, thereby reducing environmental impact over the building's life cycle.
"The construction industry continues to face major challenges due to manual design processes – and is ripe for disruption," said Francesco Iorio, CEO and co-founder of Augmenta. "We are bringing a massive sea change to the industry by introducing technology that will make the transition from current manual design processes to generative design as fundamental as the shift from pen and paper to computers."
Hazelview Ventures, a wholly-owned subsidiary and venture arm of Hazelview Investments Inc., focuses exclusively on partnering with innovative, early-stage PropTech, BuildTech, and CleanTech companies. Along with the seed investment, Hazelview Ventures is a strategic partner that will be incorporating the Augmenta platform in construction projects. This partnership will enable Augmenta to test, refine, and scale its platform at an enterprise level and bring efficiencies to Hazelview's design and construction processes. Hazelview Investments manages CAD$11.6 billion in real estate assets and has a $4 billion development pipeline.
"Augmenta's technology is a huge step forward for the construction industry and will help stakeholders achieve both cost savings and ESG benefits through waste reduction," said Roger Poirier, co-founder of Hazelview Ventures. "We are excited to be partnered with such a ground-breaking company." Concurrent with the investment in Augmenta, Poirier will join the Augmenta board of directors.
"We support innovation in the construction industry and invest in startups that enable significant productivity advancements to help our customers build better," said Blake Luse, Managing Director at Ferguson Ventures, the corporate venture capital arm of Ferguson. "Augmenta's approach in bringing Generative Design to the construction industry will drive efficiencies and help solve business challenges that our contractor customers are facing today. Ultimately, our investment in Augmenta will help skilled trade workers be more efficient on the jobsite and deliver environmental value by helping to reduce construction waste due to less jobsite rework." Ferguson is a leading North American value-added distributor that provides expertise, solutions, and building supplies to plumbing, fire, HVAC, fabrication, and other trade professionals.
In preparation for the imminent launch of a pilot program for its first product – an automated design module for electrical engineers and contractors that generates fully constructible, code-compliant designs of electrical raceway routing – Augmenta has partnered with Interstates, an innovative electrical contractor based in the U.S. Interstates has helped co-design and test the electrical module over a period of several months in collaboration with Augmenta.
"In a very short period of time, we are seeing how dramatically Augmenta's approach to automated design can reduce the cost of the design process," said Josh Gillespie, BIM/VDC Director at Interstates. "It enables us to decrease the risk of inaccurately scoping time and cost estimates while drastically reducing the time it takes to complete estimates for bids. This gives us additional time to present fully considered design alternatives, thus positioning our company as a strategic partner to our clients, which include general contractors, engineering firms, developers, and owners."
Contacts