ABB and Polara Collaborate to Accelerate Emissions Reduction with Transport Charging Solution
November 13, 2023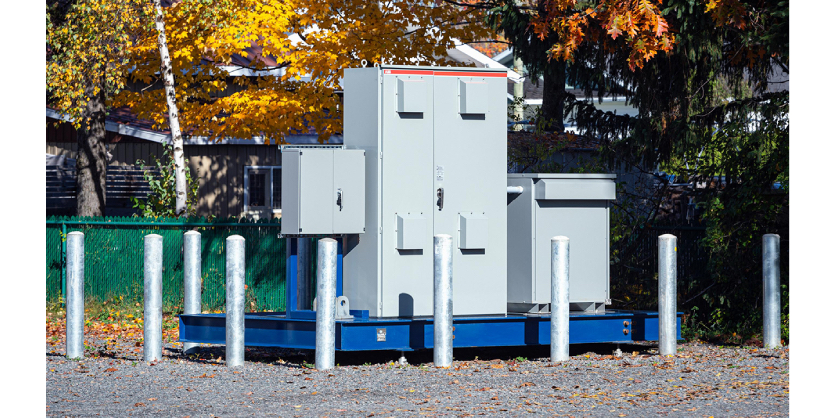 As part of the exclusive collaboration, ABB is supplying power distribution skids for the Polara CHRGPK™
ABB signs contract with EV infrastructure company Polara to provide e-mobility technology for electrifying vehicle fleets in Canada and the United States
The power distribution units are assembled and tested at the factory, making them ideal for public areas where safety is a priority
The partnership comes as the Canadian government invests $11 billion USD over next eight years in affordable and clean public transport
ABB has been awarded a contract by EV infrastructure company Polara to provide e-mobility Compact Secondary Substation (CSS) skid-mounted power distribution units to charge and electrify vehicle fleets in Canada and the United States.
As part of the exclusive collaboration, ABB is supplying power distribution skids for the Polara CHRGPK™, an optimized modular design unit that will offer various skid sizes depending on the number of vehicles requiring charging at any given time. Each CHRGPK unit comprises a CSS housing low to medium voltage switchgear up to 40.5 kV, transformers and a low voltage switchboard with protection devices.
Some key benefits of developing the modular skid solution design include reduced engineering, risk and time, as well as simplified 'plug and play' installation and increased safety. The pre-engineered units are assembled and tested at the factory, and are ideal for public areas where safety is a top priority.
"ABB's extensive experience with grid applications and proven engineering are some of the reasons that we elected to work with them to create a cost-effective solution that meets our customer's needs," said Sébastien Fournier, CEO of Polara. "The custom-engineered solutions can be duplicated in future rollouts. This is critical to keep up with the growing market demand. Operators are now responsible for procurement, charging infrastructure and maintenance of their zero-emission vehicles, and Polara is committed to their energy transition."Sébastien Fournier, CEO of Polara
"ABB is a solution provider that understands grid codes and integrated packages," said Brandon Spencer, President of ABB Energy Industries. "We are thrilled to have the opportunity to provide solutions that are safe, reliable and help to accelerate the adoption of sustainable transportation in North America."Brandon Spencer, President of ABB Energy Industries
The partnership comes as the Canadian government is investing about $11 billion USD over the next eight years in reliable, fast, affordable, and clean public transit1. This includes more than $2 billion USD per year in federal public transit funding which will be available to support projects beginning in 2026 and 2027. In the United States, the Bipartisan Infrastructure Law2 is actively promoting electrification. It is an $11 billion USD investment by 2030, which includes creating a network of electric vehicle chargers and supports the transition to electrification across all types of vehicles.
While the Québec Government's 2030 Plan for a Green Economy3 includes the electrification of up to 65 percent of its existing school bus fleet and a stipulation that all new school buses in the province must be electric. The large-scale investment in the electrification of school buses is a key to Québec's goal of a 48 percent reduction in emissions within the transportation sector by 2030 – down to 29.6 millions of tonnes of CO2 from 36.5 Mt in 2019.
ABB's Process Automation business automates, electrifies and digitalizes industrial operations that address a wide range of essential needs – from supplying energy, water and materials, to producing goods and transporting them to market. With its ~20,000 employees, leading technology and service expertise, ABB Process Automation helps customers in process, hybrid and maritime industries improve performance and safety of operations, enabling a more sustainable and resource-efficient future. go.abb/processautomation
ABB is a technology leader in electrification and automation, enabling a more sustainable and resource-efficient future. The company's solutions connect engineering know-how and software to optimize how things are manufactured, moved, powered and operated. Building on more than 140 years of excellence, ABB's ~105,000 employees are committed to driving innovations that accelerate industrial transformation. www.abb.com
Polara is a North American engineering and infrastructure company and is responsible for the complete electrification solution of all vehicles through the installation of hardware and software. Polara maximizes the value and quality of charging facilities through engineering, innovative products and professional services. For more information: www.polara.energy
1https://www.infrastructure.gc.ca/transit-transport/index-eng.html
2https://www.whitehouse.gov/build/guidebook/
3https://www.quebec.ca/en/government/policies-orientations/plan-green-economy
Related Story
ABB and Export Development Canada (EDC), Canada's export credit agency, have signed a global partnership to promote investments in sustainable technologies and projects in Canada and around the world. The support provided by EDC, with a total limit of up to US$ 2.9 billion, will provide ABB's customers with financing and insurance solutions to strategic electrification and automation projects in the sectors of clean technologies, advanced manufacturing, digital technologies, and resources of the future. Commercial financing will be provided on a project-by-project basis and the partnership will initially run for three years.