What's Abuzz in Industrial Automation: Insights from Hannover Messe by Schneider Electric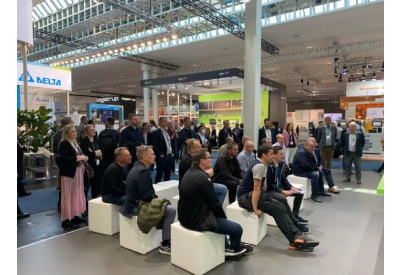 June 14, 2022
Last May in Hannover, at one of the world's largest trade fairs, the future of industrial automation was on everyone's lips. What does that future hold? To put it simply, industry transformed. We're already in the midst of a modern industrial revolution, shifting industry to a model where more work can be done remotely, more interactions are digital, and more operations automated. And to keep up, business needs to be data-driven, open, sustainable, and efficient.
Universal Automation, where automation applications are interoperable and portable and use the same runtime, is key to fully realizing the potential of next-gen industry.
In their Innovation Talk at Hannover Messe, Leif Juergensen (Next Generation Software Offers in Offer Management, Schneider Electric), and Marisa Mueller (Offer Manager in Operational Marketing, Schneider Electric) painted a clear picture of how Schneider Electric can help businesses enter the next generation of industrial automation, advancing their operations into the future without a time machine.
The push to make industry more agile
The drive for universal automation isn't new. It stems from a very real need in industry, to increase agility and interoperability. A need which was made manifestly clear during the past few years.
This industry-wide push for open and vendor-agnostic solutions laid the foundation for UniversalAutomation.org. This independent, not-for-profit association manages the implementation of a common automation shared source runtime that software vendors, industrial end users, OEMs, and academics can use. It was founded by industry leaders, including Schneider Electric.
Why is universal automation critical to the future of industry? It helps ensure portability and interoperability. It makes "plug and produce" automation a reality.
Opening up our own facilities
As a pioneer in open automation, Schneider Electric is already deploying universal automation-based solutions. EcoStruxure Automation Expert is a next-generation industrial automation system that creates step-change improvements throughout the operational lifecycle.
EcoStruxure Automation Expert uses a software-defined dynamic asset models, separating hardware and software. So IT and OT can do what they do best, not just what they've done traditionally. The result? Agile, simple, future-proof systems.
EcoStruxure Automation Expert has been tried and tested in Schneider Electric's own smart sites, like our Smart Distribution Center in Shanghai. Thanks to its modern, decentralized architecture, maintenance costs have plummeted, and throughput has increased by 5.3%, proving the value many times over.
Growth through partnership
Promoting and implementing universal automation on a large-scale doesn't happen overnight. And it's not something one company can do on its own, as shown by the need for UniversalAutomation.Org.
Changing the way industry works requires a team effort, including from players outside the traditional sphere of automation. That's why Schneider Electric and Cisco are partnering to create an easy-to-use architecture that bridges the gap between IT and OT.
Together, we have developed a reference architecture, validating all Cisco components of the enterprise facility to feed into EcoStruxure Plant Advisor – a cloud based IIoT environment that provides access to data across multi-vendor systems. The solution has been implemented in 200 Schneider Electric facilities, typically resulting in an up to 3–5% increase in productivity in mature sites, and 10–15% increase in new sites.
Other trends and innovations
Open automation may have made the most noise at Hannover Messe 2022, but it wasn't the only innovation catching interest.
For businesses looking to make production run even smoother, the Lexium MC12 multicarrier system was of particular interest. Using the latest linear motion and digital twin technologies, Lexium MC12 creates new freedom for designing faster and more flexible machines with less footprint.
EcoStruxure Machine Expert Twin helps ensure the flexibility of Lexium MC12. It allows original equipment manufacturers to design, test, and optimize their system digitally, cutting commissioning time by 60%, and reducing time to market by 50%. Perhaps best of all, it helps eliminate fiddling and moving the equipment around to manually check what works best.
Then there are Altivar Soft Starters, providing a holistic approach to motor management optimalization. This compact piece of tech is designed for digitization, and optimized to meet cybersecurity standards, making it a noteworthy tool for advancing into the next generation of industrial automation.
One fascinating case study shown at the booth laid bare the inner workings and improvements of a chocolate plant. Accomplished via the integration of ProLeiT process control and AVEVA industrial software into the customer's operations, the solution optimized energy performance and digitally empowered the workforce. A fully connected EcoStruxure for Food and Beverage solution, it delivered end-to-end traceability and transparency – with benefits for end customers as well as the environment.
Innovating for a more sustainable world
That covers some of the news from our time at Hannover Messe 2022. Each and every solution we showcased is a step forward for our vision to transform today's industrial world into one that's open, sustainable, data-driven, and efficient.