Swiss-Style Machines, Made the Mazak Way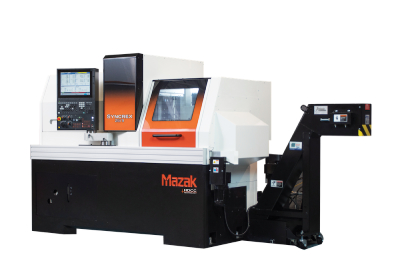 June 30, 2022
In shops all over the globe, Mazak technology leads the manufacturing industry to competitive profitability. Now, with the launch of their new SYNCREX Series, they're giving you another powerful way to compete. Make quick work of demanding specifications with fast tool setup and easy programming. SYNCREX gives you precise, stable, repeatable performance to build versatility and capture new opportunities.
Superior Surface Finishes | Fast Processing | High-Accuracy Tight Tolerances
Backed by Mazak's industry-leading MPower complete customer care service and support program and with renowned Mazak quality and performance, the Mazak SYNCREX will add flexibility and versatility in your operations.
•Spline-connected sliding head spindle for greater accuracy and less material waste
•Removable guide bushing adapter enables operators to preset guide bushing outside the machine
•Exclusive Mazak Auto Tool Setter in the machine reduces setup time
•Mazak HDCC machine base for increased machine stability and rigidity
Mazak High-Damping Composite Casting (HDCC)
•Solid one-piece casting
•Machine base weighs 3,200 lbs
•10% more rigid than cast iron
•Superior vibration damping characteristics
•80% less vibration at the cutting point
•30% longer tool life
•Less thermal distortion
Backed by Mazak's Industry Leading MPower Complete Customer Care
•Live 24-hour support
•My Mazak online service portal
•Remote Assist service
•In-depth training resources
•2-year comprehensive warranty
•Easy access to Mazak application experts
•Quick parts availability
•Expert spindle rebuild and repair
Add Flexibility and Versatility in Your Shop with a Mazak SYNCREX
Contact them for more information by clicking here