Smart Vision Lights' LM150 Offers More Than 100,000 Lux in a Small Package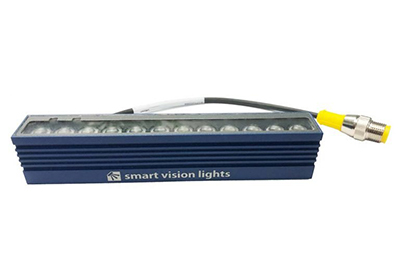 December 11, 2020
Smart Vision Lights recently introduced its new LM150 miniature linear light with an internal Multi-Drive LED light controller.
The built-in Multi-Drive controller allows the LM150 to work in either continuous or OverDrive mode, depending on the input signal to pin 5. The LM150 delivers more than 100,000 lux in OverDrive mode. The industry-standard 5-pin M12 quick disconnect makes for simple wiring. The LM150 also features overcurrent protection and can be enabled/strobed with either PNP or NPN inputs.
Measuring 141 mm, the LM150 offers a new and unique size option, joining the already popular LM45 and LM75 models in the bar light series. While the LM150 and other bar lights may be used for brightfield or darkfield illumination, depending on physical placement, the long and very narrow profile of the LM150 makes it ideal for darkfield applications. It is especially useful for surface inspection of cell phone, tablet, and other flat-panel displays. The compactness of the LM150 is particularly suited to electronic assembly and other highly automated tasks where space is limited and light placement is critical.
The LM150 is a versatile light with a wide range of working distances, from 50 to 2000 mm. The light pattern can be modified with five lens choices, ranging from a 16-degree narrow to an 80-degree wide or line lens. This further extends the versatility of the light by allowing the user to achieve optimum lighting for any field of view, regardless of working distance. Available standard wavelength choices are white 6200 K, 470 nm blue, 530 nm green, 625 nm red, and 850 nm NIR.
Smart Vision Lights' products are EMI compliant to CE IEC and FCC standards and meet all RoHS, REACH, WEEE, and Conflict Minerals regulations.