Rittal Introduces Climate Control for Every Season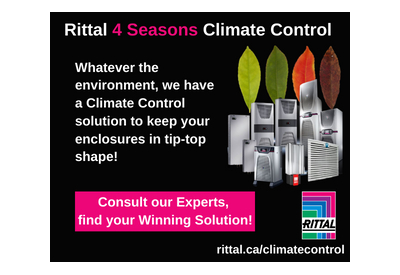 February 3, 2022
Climate Control Solutions are important all year round to keep the equipment in your enclosures functioning perfectly. But how do you know if your enclosure climate control solutions such as industrial and IT air conditioners, chillers, heat exchangers, fans, and LCPs, are working properly? Whatever the environment, we have a climate control solution to keep your enclosures in tip-top shape! Consult with Rittal experts to find your winning solution.
Step 1: Consult with our Rittal Experts
Our experts will evaluate the state of the operating environment, document the status of your climate control devices, and provide free audits or suggestions that help you save up to 75% in energy costs, and extend the life of your equipment.
Step 2: Commit to a purchase of our Climate Control Solutions
After completing the consultation, if you're pleased with the suggested solutions, simply inform your rep about your Climate Control solutions wish list.
Step 3: Priority Inventory for you
If you are committed to a future purchase, you will receive first-priority on delivery, and have access to top-notch service plans and extended warranties on our select leading Climate Control Solutions throughout the year! To get started and schedule your free consultation today, click here