PULS: FPT500.241-010-108 IP65/67 Power Supply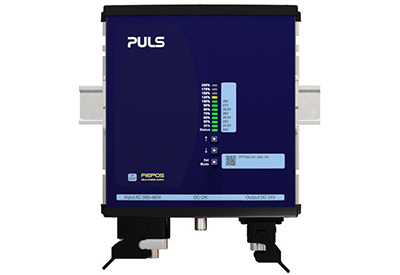 September 30, 2021
The FPT500 is an industrial grade power supply for the 3-phase mains system incorporated in a rugged wall-mount housing with an ingress protection level of IP65/67.
The most outstanding features of the FPT series are the compact size, the wide operational temperature range, the negligible low input inrush current and the extremely high efficiencies, which are achieved by various technological design technologies. Large sized output capacitors can absorb and store regenerative energy from breaking motors.
Various connector options support the different needs of individual applications. Contact PULS for possible options. High immunity to transients and power surges as well as low electromagnetic emission and an international approval package makes usage in nearly every environment possible.
Features
– IP65/67 degree of protection
– 600W continuously up to +45°C
– 1000Wpeak 5s
– 3AC 380-480V wide-range input
– 95.6% full load and excellent partial load efficiencies
– DIN rail mounting possible, option "D"
– Output connected to PE
– Version without connection to PE on request
– Large output capacitors
– Not potted
– Negligible low input inrush current surge
– Full power between -25°C and +55°C
– DC-OK relay contact
– Input HanQ4/2 / Output HanQ2/0