Plug & Play for Energy Storage Systems – All for Energy with Han® S Connectors and Cable Assemblies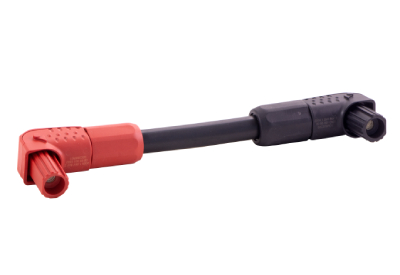 November 24, 2021
Benefit from minimal wiring input on site and shorter installation times: fielding its Han® S connector, HARTING is now presenting an ideal solution for assembling energy storage systems (ESS) based on battery storage modules – thereby making vital contributions to the establishment of high-performance infrastructures for decentralised energy supply.
The Han® S has been specifically optimised for front-mounted connections. In order to further cut down on installation times for ESS and minimise wiring effort on site, HARTING is now offering the connector in combination with prefabricated cable assemblies tailored to the respective applications.
The assemblies are available with cross-sections of 25, 35 or 50 mm² and cable lengths of 20, 30, 40 or 50 cm and are suitable for temperatures between -50 and +120 degrees °C. The material employed is halogen-free and impervious to the effects of ozone. The voltage limits are between 1.8 kV (25 mm²) and 3 kV (50 mm²) AC and between 2.7 (25 mm²) and 4.5 kV (50 mm²) DC.
The new Han® S combinations ensure optimum safety for the installation of battery storage systems, as the design meets all the relevant technical requirements, including EN 45545-2, NF F 16-101 and the new UL 4128 standard for stationary energy storage systems. UL 4128 is currently the highest standard required by the market.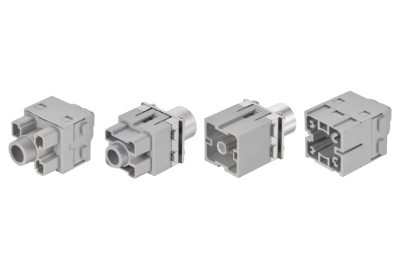 300 A power connection for energy storage in modular connector
Higher capacity, less weight – this sums up the key objective in the development of energy storage systems (ESS). While previous ESS are often supplied with 200 A/800 V DC, the trend in applications is towards higher energy density. To an increasing extent, interfaces for transmissions of 300 A/1200 V DC and more are required. In order to align with this trend, HARTING has developed the 300 A module as part of the Han-Modular® connector range. In this way, the ESS can be supplied with power, data and signals in parallel in a multi-module interface.
The Han® 300 A module is suitable for connecting new energy storage units, as well as for upgrading existing systems (as it is plug-in compatible with the Han® 200 A module). Equipped with touch-safe contacts, it can be connected directly to the busbar or integrated into drawer-type storage units.
More details on Han® S are available here
More information about Harting's pug and play products for energy storage systems are available here