New UC18GS Series With IO-Link Combines All Advantages of Ultrasonic Technology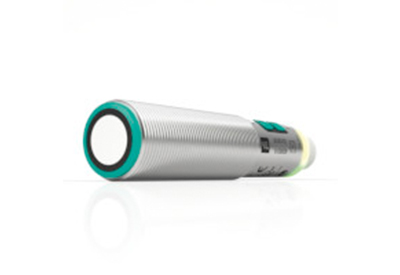 December 11, 2020
With the UC18GS series with IO-Link, Pepperl+Fuchs now presents a series that combines all the features and advantages of advanced ultrasonic technology in a compact housing. The individually-adjustable sound beam width, the extra-small dead band and the integrated interference target suppression allow the sensors to be optimally adapted to a wide range of applications. Users have numerous programming options, such as via push buttons, IO-Link or infrared interface (IrDA). The UC18GS series thus exploits the full potential of ultrasonic sensor technology and offers maximum flexibility and process reliability for almost any application—whether in the packaging industry, material handling, or the field of process equipment.
Application-Specific Settings for Fault-Free Operation and Increased Process Reliability
Pepperl+Fuchs developed the ultrasonic sensor series UC18GS with view to both current and future application requirements. Thanks to the adjustable sound beam width and the particularly small dead band of 30 mm at 500 mm range or 70 mm at 1000 mm range, smooth operation is possible without loss of range—even in challenging environments or confined spaces. If, for example, steps on the interior wall of the tank or machine parts protrude into the detection range, the sound beam of the sensor can be configured correspondingly narrower. An integrated interference target suppression provides double protection against any false echoes and ensures reliable measurement results at all times. The UC18GS ultrasonic sensors not only adapt optimally to the application but also increase process reliability at the same time. Target distances, such as liquid levels, can be precisely measured even in the suppressed range without the need for costly adjustments to the application.
Parallel Operation of Several Ultrasonic Sensors Thanks to Automatic Synchronization
The automatic synchronization also enables the parallel and trouble-free use of up to ten sensors in a confined space—without any parameterization effort. For this purpose, each ultrasonic sensor of the UC18GS series has a synchronization input. To suppress mutual interference ("crosstalk"), the respective synchronization inputs are interconnected and ultrasonic pulses are emitted in a self-multiplexing, common or externally-triggered mode.
Maximum Flexibility in the Range of Programming Options
Whether conventional pushbuttons or interfaces such as IO-Link or IrDA—ultrasonic sensors of the UC18GS series give users maximum flexibility in terms of programming options. While the IrDA interface allows live data in running applications for maintenance or analysis purposes, the comfortable and detailed configuration for the individual application is performed via IO-Link master or DTM. The output configuration as well as the sound beam width can also be set directly on the sensor using the programming button.
Highlights
– Combination of all functionalities and features available today in the field of ultrasonic sensor technology
– Application-specific adjustable sound beam without range loss
– Integrated interference target suppression for process safety and consistent measurement results
– Easy synchronization of several sensors without parameterization
– Convenient programming and parameterization via push buttons, IrDA or IO-Link interface