New Generation of High-Performance Industrial Miniature Circuit Breaker (MCB) Arrives
April 20, 2023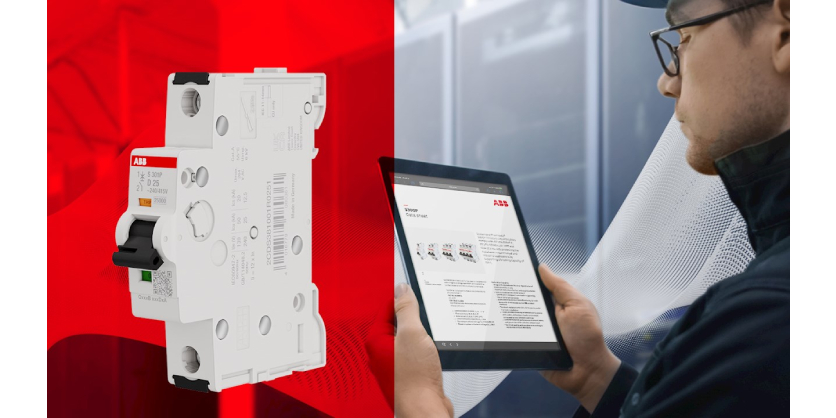 Latest upgrade on critical electricals component significantly enhances performance, safety, and sustainability almost 100 years following its original invention
Safety features in ABB's new MCB see increased impulse withstand voltage and an integrated Trip Position Indicator (TPI) to show which device has tripped
New S300P performance due to increased breaking capacity and device also offers ease of installation and maintenance
A leading technology company and pioneer in electricals, ABB, has launched its new industrial miniature circuit breaker (MCB) almost 100 years since it brought the first such device to market. The new ABB S300 P Industrial MCB updates the fundamental component in a modern electrical system, improving safety, performance, efficiency installation and information accessibility.
The upgrade allows for a new level of enhanced performance within the same familiar volume and design for industrial MCBs. The new generation S300 P, which replaces the previous S200 P, offers new functionalities including the TPI, the Dual DIN-rail clip, and a QR code for quick access to documentation, certificates, and technical data.
Christian Völker, Global Product Manager in ABB Electrification's Smart Buildings division said, "We know how important an MCB is to safe, smart, and sustainable building electricals and we can confidently say that S300P will demonstrate best-in-class technical performance in the market. In fact, this new MCB series is market leading collectively across performance, safety and efficiency, and ease-of-installation."

Christian Völker, Global Product Manager in ABB Electrification's Smart Buildings
The new S300 P has an updated terminal design to support larger cables, up to 35 mm² and saves installation space by being one module in width in combination with a bottom fixed auxiliary contact. It also operates in a more energy efficient way, with increased impulse withstand voltage and lower internal resistance reducing power loss and increasing safety. The new industrial MCB is useable worldwide supported by relevant global certifications.
The S300 P is the first MCB to be assessed according to ABB's circularity products framework and applied with the Company's EcoSolutions™ label​, for full transparency on the environmental impact throughout the product life cycle. As a precondition, the product has also been externally verified through Type III Environmental Product Declarations (EPD), in compliance with ISO 14025 and in support of global requirements from customers and regulators for more sustainable supply chains.
More Information
Related Story
ABB is accelerating its growth strategy in the United States by investing approximately $170 million and creating highly skilled jobs in manufacturing, innovation and distribution operations. ABB is committed to growing in the US by investing in its electrification and automation businesses that meet increased demand from industry-leading customers, while supporting the clean energy transition and the trend towards reshoring of production. This commitment is highlighted by today's pouring of the concrete foundations for a greenfield drives and services facility in New Berlin, Wisconsin. The US is ABB's largest market, comprising 24 percent of the company's annual revenue.1
Based on 2022 ABB Group revenues