Improved Process Safety, Productivity with New Cerabar, Deltabar Pressure Gauges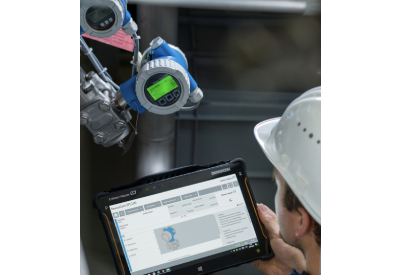 September 26, 2022
Endress+Hauser has launched new Cerabar and Deltabar pressure gauges with a Bluetooth® interface that makes them easier to operate and maintain in safety-critical systems. Their high level of safety combined with productivity enhancing features is another application of Endress+Hauser's smart safety approach to increasing plant availability.
As technicians in the Baby Boom generation retire, many industries are struggling with a lack of qualified personnel. Major plant revisions often involve service providers whose personnel do not have adequate knowledge of the equipment and systems on site. The amount of safety-related equipment also has increased significantly, for example in the chemical industry, and with it the number of costly proof tests of the safety integrity level (SIL).
To meet these developments, Endress+Hauser has simplified the Cerabar and Deltabar pressure measurement line in these next generation models. Its intuitive operation via the SmartBlue app includes guided operating sequences for parameterization and commissioning. The inclusion of an additional Bluetooth® interface bridges distances of up to 15 m. Thus, even difficult-to-reach measuring points or those in hazardous areas are easy to maintain, even if they are only integrated into the process via a 4–20mA interface. The employee does not have to open the housing or connect a cable. Real-time pressure data is available at any time.
Unlock IIoT potential

The NAMUR roadmap "Process-Sensors 4.0" names three key criteria for digital process sensors: wireless communication, sensor diagnosis and the provision of information about the sensor and the process. With optional Bluetooth® and Heartbeat Technology functions, the new Cerabar and Deltabar devices meet these criteria.
Heartbeat Technology creates the basis for predictive maintenance. The devices' functionality can be verified without process interruption – usually in less than three minutes, via Bluetooth using the SmartBlue app. A verification protocol, which provides detailed test information, is generated automatically, based on the continuous self-diagnostic function of the pressure transmitters. It achieves a diagnostic coverage rate of over 95%.
Heartbeat Technology also detects irregularities in the process, for example deviations in the loop resistance, which suggests a defective cable, or blocked impulse lines, like those caused by crystallized medium.
Improve process safety

The new Cerabar and Deltabar pressure gauges employ proven, reliable and robust sensor technology while their new pressure measurement technology features self-explanatory and efficient operating concepts that prevent systematic errors during parameterization. During the commissioning of measuring points and during SIL proof tests, the devices' guided operating sequences show the operator what to do, step by step. This prevents errors and increases safety, while enabling those tasks to be completed more quickly.
To learmn more, click here