RFID Made Simple: New UHF Read/Write Device with IO-Link
March 20, 2023
Seamlessly identify and track parts and goods according to the "Track and Trace" principle. Establish transparency throughout the entire manufacturing process. Creating the information basis for implementingIndustry 4.0 concepts.
Pepperl+Fuchs now offers a practical solution for users looking for an easy entry into the world of RFID with all its possibilities: The new F191 RFID read/write device combines the advantages of sophisticated industrial UHF technology with a standardized interface for IO-Link communication—and is therefore a cost-effective enabler component for a wide range of standard applications in areas such as intralogistics, automotive, and material handling.
The new F191 RFID read/write device from Pepperl+Fuchs with UHF technology and IO-Link interface – a cost-effective enabler component for a wide range of standard applications in areas such as intralogistics, automotive or material handling.
Start Quickly in "Easy Mode" in Standard RFID Applications
The F191 RFID read/write devices are commissioned without time-consuming programming via the future-proof, integrated IO-Link interface. In "Easy Mode," the devices transfer their data to the higher-level system in accordance with the plug-and-play principle without integrating complex function blocks.
It doesn't matter whether this is an IoT-centric or PLC-centric architecture—Pepperl+Fuchs offers the appropriate IO-Link masters for connecting the RFID read/write devices from a single source for both applications. This means that up to eight RFID read/write devices can be operated in a cost-effective manner on just one IO-Link master. The multiprotocol capability of the IO-Link master module ensures compatibility with almost any bus or control system.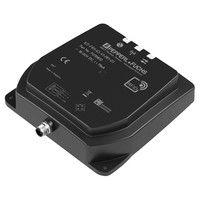 Rugged UHF Technology for Industrial Applications
When the F191 RFID read/write devices are in operation, they enable reliable detection of various UHF tag types in a sensing range of up to 1 m by means of transmit power of up to 100 mW ERP (adjustable). A wide range of application-specific tags from the Pepperl+Fuchs product selection are available for this purpose.
UHF technology makes it possible to simultaneously detect bulk data from multiple tags in one read operation. With a rugged IP67 housing, integrated antenna, and a wide temperature range of -25 °C to +70 °C (or -25 °C to +60 °C in continuous operation), the F191 RFID read/write devices are also designed for use under adverse ambient conditions.
Decades of RFID Expertise behind the Solution
In the Pepperl+Fuchs UHF RFID portfolio, the F191 read/write device joins the F190 and F192 versions already established on the market. Compared to the new F191, these support advanced setting options for the continuous solution of more complex special applications or a greatly increased sensing range (F192 up to 6 m).
In combination with the broad experience gained over 30 years of RFID development and other solutions for the LF and HF frequency range, a wide variety of applications can be covered by the identification experts at Pepperl+Fuchs.
Highlights of the F191 UHF Read/Write Device with IO-Link
Economical, high-performance identification solution with IO-Link interface
Especially simple RFID solution: Easy Mode with plug-and-play connectivity and no programming required
Low channel costs for maximum efficiency by connecting multiple read/write devices to an IO-Link master
Flexible system integration with connection via IO-Link master to almost all bus systems and controllers
Optimal read range of up to 1 m for a wide range of applications
Multitag reading of numerous tags for maximum efficiency
Maximum process reliability due to high degree of protection, an extended temperature range, and adjustable transmitter radiated power
More Information
Related Service
Pepperl+Fuchs has completely revamped its web portal for components and solutions for electrical explosion protection. At www.explosionprotection.com, interested parties can find a target group-specific excerpt from the comprehensive portfolio of the specialists for explosion protection and industrial sensor technology. The site's navigation paths have been streamlined and additional product ranges have been added to the portal. In addition to a modern design, visitors also benefit from an optimized display on mobile devices.