Festo's Power UP Initiative Seeks to Transform Food and Beverage Machine Building with Electric Automation
November 1, 2023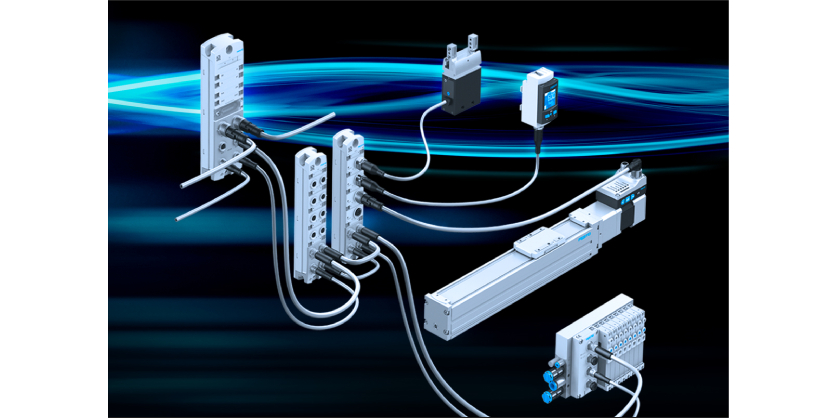 Festo's Power UP Initiative
The Festo Power Up initiative for food and beverage machine builders aims to spur the efficient adoption of electric automation and in the process support the development of the next generation of compact, flexible, energy efficient and data-rich machines.
Three pillars support the initiative. Machine builders now have at their disposal a Festo one-stop-shop of readily available, high-quality, and cost-competitive electric automation components. Festo's design and commissioning tools reduce engineering overhead and help bring products to market faster. And Festo recently introduced a remote, decentralized I/O platform that lowers integration cost and augments the ability of original equipment manufacturers (OEMs) to add capabilities easily and cost effectively to a machine or cell.
Power Up your operations with our Electric Automation Solutions. Explore what's possible with Electric Automation Solutions by Festo.
Taken together, these three pillars – products, productivity tools, and automation platform – can transform a food and beverage machine builder's business.
"Festo innovations open the door for Canadian food and beverage OEMs and system integrators to create solutions through electric automation while improving internal efficiencies," says Kevin Tardif, Electric Automation Business Driver Manager, Canada Region, Festo. "Compact and higher performing systems that offer the utmost in flexibility and energy efficiency will lead to greater competitiveness, not only here in Canada, but also internationally."

Kevin Tardif, Electric Automation Business Driver Manager, Canada Region, Festo
Festo Canada, adds Tardif, leveraged almost 40 years of knowledge in simple motion, based on its global leadership in pneumatics, combined that with over two decades of research and development in remote I/O and control, then applied this expertise to today's drive toward electric automation and greater machine flexibility.
In the past decade, Festo also has expanded its electric automation portfolio. Today, it offers:
Festo electric automation, both mechanical and electronic components, interoperate, assemble quickly without difficulty, and lower the risk associated with integration.

The online Festo Electric Motion Sizing and Handling Guide Online productivity tools allow one, two and three axis electric automation systems to be designed and ordered in minutes, not hours or days. Design engineers simply enter application parameters (no programming is required). These tools give the designer several solutions to choose from – options in terms of performance and cost. Components are guaranteed to be readily available and interoperable, free of supply chain delays. 
At the end of a minutes-long design session, the engineer receives a quote, shipping date, parts list, and 2D and 3D CAD files. Having immediate access to CAD files means the machine builder can continue designing while the electric automation system is being readied for shipment.
Following an Electric Motion Sizing and Handling Guide Online session, the commissioning files are automatically compiled and ready for download to the PC-based Festo Automation Suite software, a free tool for setting up a drive package from mechanical system to controller. That saves an enormous amount of time and reduces the possibility of commissioning errors.
Festo's revolutionary Automation Platform enables all CPX-AP-A remote I/O and CPX-AP-I decentralized I/O to be integrated by the controls engineer as a single integration point under one IP address. This makes integration with the PLC simpler and since all I/O is under a single IP address, it's possible to use a smaller, less costly PLC.
The Automation Platform is compatible with the EtherNET/IP, EtherCAT, PROFIBUS, and Modbus communication protocols. OEMs building similar machines but using a customer preferred PLC simply apply a protocol specific AP bus interface module. I/O can remain the same or be easily changed, all under a single integration point and one IP address. The Automation Platform uses IO-Link masters to incorporate third-party devices within a machine or cell.
Power Up gives engineers, maintenance personnel and technicians just one unified system to learn, not several. It lowers inventory requirements. Using a single supplier's products simplifies field support. Furthermore, Festo assigns a unique part number to each electric automation assembly and that number is linked to a complete parts list for easy reference and reordering.
More Information
For more information on the advantages of working within the Festo ecosystem ‒ the ecosystem that leads to less engineering overhead, faster time to market, and seamless connectivity. Power up ‒ visit www.festo.ca
Related Story
Easily the star of the show is Festo's lineup of Productivity Tools. These online and downloadable tools have been meticulously designed to address all existing factors in the design of a motion system – and they are all 100% free. These tools include Electric Motion Sizing, Handling Guide Online, Automation Suite, and 3D CAD Configurator.