2023 Innovations from Festo: Productivity Tools with Improved Features
September 22, 2023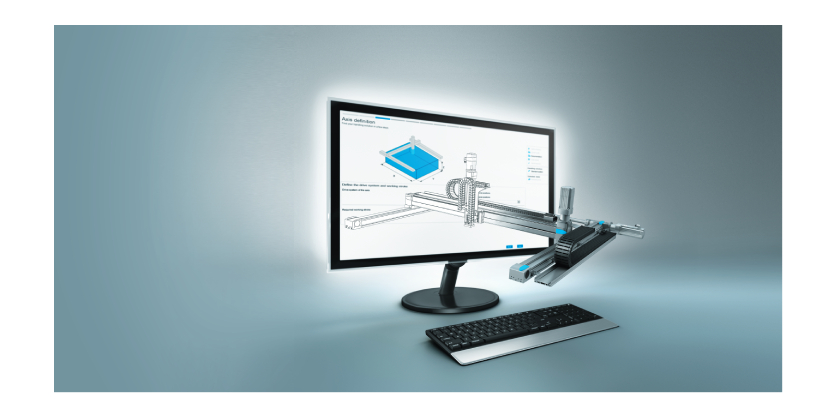 By Krystie Johnston
Festo is a leading supplier of pneumatic and electrical automation technology that tirelessly innovates to improve operations for machine builders and end-use customers in the discrete and process industries. Festo's 2023 innovations include their CPX-AP-A remote I/O, CMMT MP servo drive, and a portfolio of productivity tools.
Easily the star of the show is Festo's lineup of Productivity Tools. These online and downloadable tools have been meticulously designed to address all existing factors in the design of a motion system – and they are all 100% free. These tools include Electric Motion Sizing, Handling Guide Online, Automation Suite, and 3D CAD Configurator.
Electric Motion Sizing (EMS)
Electric Motion Sizing (EMS) is an online software tool for sizing and ordering motors and servo drives for one and two axis systems. For customers who need movement as part of their system, the software can include linear and rotary actuators in the sizing. Accessories can be added as well, such as gearboxes, motor mounting kits, cables, and other hardware. Recent additions to this software include templates that focus on customers who want to size Festo's motors and servo drives to use with another manufacturer's mechanics. These applications could include conveyor belts, rotary index tables, rack and pinion systems, or ball screws, for example.
"The software was designed to be easy to use. We want to make it as effortless as possible for the customer to enter their application information into the software."

Tom Worsnopp, Product Market Manager at Festo
Festo's EMS makes it seamless for customers to connect their application with solutions. Once they come to the software, they are prompted to select their application (linear or rotary), and next the application that they are working on.
After entering their application information, the software generates a list of suitable solutions for the customer to choose, and they can filter these solutions in different ways.
"They can sort them by cost or by performance criteria. Once they have selected their preferred solution, they can customize it before ordering," explains Worsnopp. The software allows customers to design motion systems within minutes – a process that, traditionally, could take hours or days depending on the application. Time and cost savings is worth repeating again.
Ordering is made simple as well: the customer can add the bill of materials (BOM), generated by EMS, for that solution directly into the cart and check out, or they can add the BOM into a larger purchase order if that is convenient. A recent innovation is the ability to download a commissioning file for the solution that has been sized. The customer downloads the commissioning file, imports it into Festo's configuration software, also known as their Automation Suite, and the entire process – from designing the servo axes to commissioning it – becomes connected.
Handling Guide Online (HGO)
Festo's Handling Guide Online (HGO) is essentially an extension of their Electric Motion Sizing tool, but for motion applications that have three or more axes. Like the EMS, HGO is designed to be easy to use and assist users to quickly select a system based on their application. The customer navigates to the software and follows the prompts to enter their application information into the tool and the system presents them with a list of possible solutions. They select the one that they prefer the most, configure it, add accessories, or change some of the options before ordering. The HGO makes it as easy as 1, 2, 3, taking a fraction of the time that it would take doing this with pen and paper and referencing catalogs.
Moreover, with Festo's HGO, customers get a 3D preview of what their motion system looks like before ordering it. Ordering is made easy with the ability to add the BOM to the cart and check out or place the order ID with a larger purchase order. Then a commissioning file is then generated, which provides full documentation such as CAD files and technical data sheets. When the customer receives the handing system, they import the commissioning sheet into Festo's Automation Suite where all the components are pre-configured, making it seamless to connect the system. Festo's lineup of productivity tools make it fast and easy to develop motion systems and are parallel to none.
"This is a unique solution from Festo. We have competitors in the muti-access systems space, but none of them have something as robust as this tool. The system ID, the Commissioning File, and a unique identification number is a link to their documentation, so thyy come back later if they need spare parts. It is a powerful tool."

Eric Rice, Product Market Manager, Festo North America
Automation Suite
Festo's software offering for sizing motion systems and has been thoughtfully designed to connect seamlessly to Festo's Automation Suite, the downloadable software used to commission them. Festo Automation Suite is a complete development tool that is used to configure all devices, including servo drives such as the CMMT-MP and remote and decentralized IO such the CPX-AP-I and CPX-AP-A. Released in 2018, Festo's Automation Suite stays relevant with updates and improved functionality.
"This ability to import commissioning files makes that connection between designing and commissioning much easier. And it simplifies the whole process for the customer."

Tom Worsnopp, Product Market Manager at Festo
3D CAD Configurator
To simplify the abundance of accessories that can be connected to seemingly infinite arrangements of pneumatic motion systems, Festo recently introduced the online 3D CAD Configurator, a 3D product configuration tool for generating Festo-specific CAD product combinations for pneumatic cylinders. It is designed to be easy to use and fun to play around with as users create graphic models of cylinders and accessories. There are pneumatic-guided drives and semi-rotary drives, and when the engineers interact with the configurator, they can click on highlighted portions and the program shows the available accessories.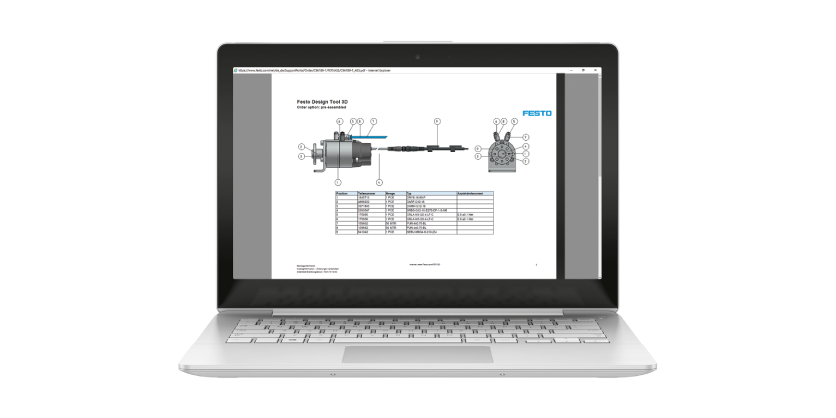 Prior to its launch, customers would use catalogues to select cylinders and accessories in a more tedious exercise to ensure compatibility and availability. "This tool does all of that for them. When you add a fitting or an accessory, when you click on that portion of the cylinder, for example, you are only presented with the accessories that are compatible," explains Rice.
"In addition, it only presents the components that are readily available. We have tens of thousands of fittings and accessories. We want to steer customers towards the one that they are going to receive the soonest."

Eric Rice, Product Market Manager, Festo North America
Festo's 3D CAD Configurator takes minutes to configure something, and when complete, it provides a single ID number, which is a key to everything that was selected. Ordering is made simple because everything ships in one kit.
More Information
Festo will be presenting their latest product innovations at the Canadian Manufacturing Technology Show (CMTS) in Toronto from September 25 to 28. Stop by their booth 1829 and learn more about their latest innovations for Industry 4.0, IIoT, future-proofing and more.
Visit Festo for more information
Related Product
Festo's 2023 innovations include their CPX-AP-A remote I/O, CMMT MP servo drive, and their portfolio of productivity tools. The seamless connectivity of the CPX-AP-A remote I/O modules and the CPX-AP-I decentralized I/O offer incomparable flexibility for OEMs in North America who need to serve different end users. The CMMT MP drive supports EtherCAT, EtherNET/IP, PROFITNET, and Modbus TCP, essentially all primary Industrial Ethernet fieldbuses on the market.'
Additional Resources