Festo's VTSA-IO Link Valve Terminal Provides Power Plus Flexible Connectivity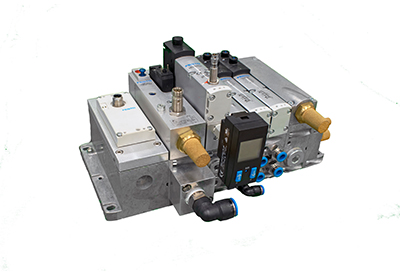 November 26, 2020
Festo is meeting the need of the North American automotive sector for a powerful yet flexible valve terminal with IO-Link connectivity on board. Festo's VTSA IO-Link, shipping as of late May, includes an IO-Link connector for use on the company's workhorse ISO valve manifold VTSA, and had already become a core product of some automotive customers that want the performance, diagnostics and simplicity of IO-Link on the shop floor.
The VTSA series is a heavy duty performer in Festo's valve terminal lineup, capable of handling many ISO-style or high flow valves, with the added advantage of being able to use different sizes on the same manifold. The VTSA IO-Link offers capacity of up to 24 coils – 24 single or 12 double solenoids – and customers can use any combination of valve sizes 18 mm, 26 mm, 42 mm and 52 mm. VTSA IO-Link also offers many of the same optional add-ons as other VTSA variants like stackable regulators, integrated vacuum generator, pilot air pressure control and monitoring, and a safety exhaust and soft stop valve for quick exhaust and slow pressure build-up with spool monitoring for added safety. The VTSA IO-Link interface can also be used in combination with Festo's low-cost CTEU network adaptor to create a flexible fieldbus network with popular protocols like EtherNet IP, PROFINET and EtherCAT.
"A lot of customers, especially in the North American auto or food and packaging industry, want the large flow capacity of the VTSA rather than more compact manifolds with limited flows ­– nothing else in that respect compares with VTSA," says Santiago Olmedo, Customer Solutions Engineering Manager at Festo Canada. "When you have big clamps or long stroke cylinders with large bore diameters like in automotive production, you need the fast cycle times and a manifold that provides high flow. But they also want a manifold with IO-Link on board for the low cost, point-to-point and bi-directional connectivity it enables between the control system and field level devices, and safe and fast installation and commissioning with standard, unscreened wiring rather than complex and expensive cabling."
Festo has adapted its standard IO-Link connector module used with the VTUG valve terminal series ­­to provide connectivity on the VTSA multipin terminal. No special software is required. "You just use the standard software as if you were programming a VTUG IO-Link manifold," says Olmedo.
Festo can supply the VTSA IO-Link manifolds assembled or will supply the IO-Link connector package separately for customers to assemble onsite.
For more information, visit www.festo.com.