VisuNet FLX—Pepperl+Fuchs Presents New Platform for Highly Flexible Operation and Monitoring Solutions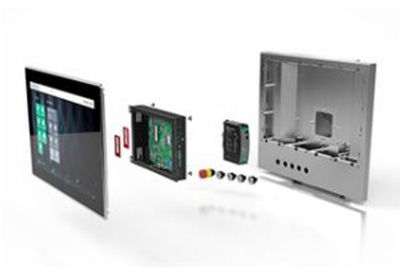 May 18, 2021
VisuNet FLX is, as its name suggests, a comprehensive range of highly flexible operator workstations and monitoring systems from Pepperl+Fuchs for ATEX/IECEx Zone 2/22 and Division 2 (global certifications pending), and non-hazardous areas. The new platform is tailored to the needs of the petrochemical, chemical, and pharmaceutical industries. Thanks to the fully modular design, HMI solutions can be configured to maximize functionality and the platform can be quickly and easily customized in the field.
The VisuNet FLX HMI family features a wide range of different technologies, mounting options, and peripheral devices. It is available as a thin client, PC, and direct monitor, and supports a wide range of applications. The thin-client-based systems are the core technology and supplement the portfolio with a modular system solution for Zone 2/22. Expanding its product range has allowed Pepperl+Fuchs to become the first supplier on the market to offer a fully modular thin client portfolio from the control room to hazardous areas (Zone 1/21).
More Versions Allow for More Flexible HMI Solutions
In addition to the core components, Pepperl+Fuchs is continuously expanding its range of peripheral devices. These include intrinsically safe keyboards, barcode readers for hazardous areas, and AC/DC power supplies.
Versions with an extended temperature range of -20 °C … +55 °C are available to meet special requirements that deviate from those of conventional indoor applications. Thanks to this variety of system designs and configuration options, users can employ technologically advanced, precisely tailored HMI solutions while benefitting from low investment costs (CapEx).
"One Size Fits All" HMIs
The modular design of the FLX solutions provides additional advantages, including the ability to upgrade to future processor generations on demand by easily replacing a thin client or PC unit. This feature makes the FLX solutions a future-proof investment. Similarly, display units and power supplies can be replaced easily during service work, keeping costly downtimes to a minimum.
This "one size fits all" principle also opens up new potentials for OEMs and machine builders by simplifying inventories and enabling quick customization based on end customer application requirements.
Global Solutions, Global Support
Pepperl+Fuchs has a wide range of preferred products quickly available from stock at market launch. This selection of preconfigured FLX solutions covers a majority of applications often found in the petrochemical, chemical, and pharmaceutical industries. However, if a customer requires modifications, individualized solutions can be created and produced in one of Pepperl+Fuchs' worldwide Solution Engineering Centers (SEC). A large selection of approved pushbuttons is just one example of the modifications available. Solutions for dual-monitor or mobile applications were incorporated in the design process and can be customized if required.
In combination with the numerous pending certifications (e.g., ATEX, IECEx, NEC500) and the extensive Pepperl+Fuchs partner network, the VisuNet FLX series offers a flexibly scalable, expanding platform for HMI solutions that can be used worldwide.
Highlights of the VisuNet FLX HMI Platform
– High flexibility and adaptability to different applications
– Modular system for simple mounting and replacement of components in the field
– Future-proof: Celeron and i5 processors from Intel's seventh generation
– Reliable operation of all components in a wide temperature range
– The first end-to-end thin client portfolio on the market: from the control room to applications in Zone 1/21 and Division 1
– Global service and support: international network and globally certified products
– Individual solutions from a single source: worldwide Solution Engineering Centers (SEC)