Festo's Compact EHMD Gripper Performs Fast Opening/Closing in Tight Spaces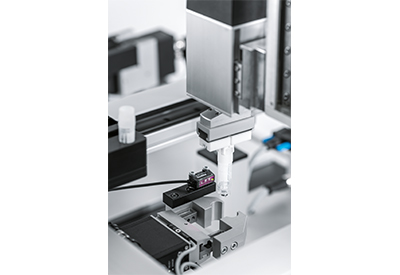 November 26, 2020
Festo's new smallest-in-class, compact rotary gripper module EHMD is optimized for reliable gripping and rotation of small objects in confined spaces. It's ideal for applications like screwing or unscrewing of caps on sample vials with up to 15 ml volume in laboratory automation. The unique Z module automatically adjusts to the thread pitches of the caps, eliminating the need for head/adapter changeover times. EHMD also is fast for so small a unit – up to 120 rpm at full torque.
EHMD is equally effective whether the application is for in-vitro diagnostics, cell or genome research or quality inspections in the biotech and pharmaceutical industries. This includes functions like preparing and analysing samples, loading centrifuges, gripping, rotating and placing microwell plates or even opening and closing sample vials of different sizes. Its wipedown surfaces and a clean, compact design make it particularly well-suited for operations in a laboratory environment. It is also perfect for pick and place tasks in light assembly in the electronics industry or for food and beverage applications.
When combined with a 3D gantry and a camera, EHMD can support quality inspections, rotating samples in front of a barcode reader, or label printing with a label printer.
The EHMD is available in two versions: fully electric or as a hybrid with a pneumatic gripper. Both permit infinite rotation. An optional assembly module with Z compensation automatically adjusts to the thread pitch of the caps without moving the Z-axis. When powered by the motor controller CMMO-ST from Festo, it allows sample containers of unknown size to be gripped with varying levels of force.
For more information, visit www.festo.com.