Festo's New Multi-Axis EXCL Gantry Breaks Price/Performance Barriers in Lab Automation
March 21, 2023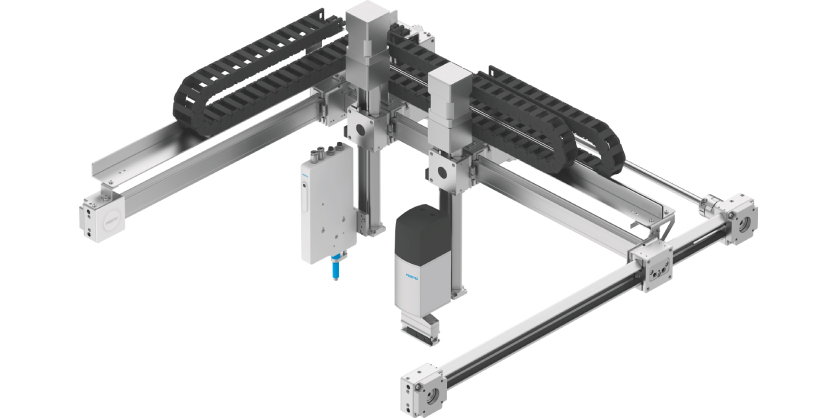 The EXCL gantry checks all the boxes for affordability, performance, flexibility, footprint, and integration
Festo introduces the EXCL, a multi-axis gantry kit that lowers acquisition, engineering, and assembly costs for automated sample handling and liquid dispensing in laboratory devices. The EXCL joins Festo's rapidly expanding portfolio of products dedicated to applications in the life sciences, and in particular laboratory automation. It was one of three products that had their North American debut at the recent SLAS event in San Diego, along with the DHOP closed-loop, high speed pipette head and DHAP pipette tips.
The EXCL gantry can accommodate two independently transversable Z-axes. One axis can handle samples while the other manages liquids, or one axis decaps and caps sample vials while the other handles liquid. Not only do independently transferable Z-axes boost performance, they also perform the functions of two standalone devices, reducing footprint and costs and saving on integration time when both applications reside in the same footprint. The EXCL's PCB controller mounts within the device. No special control cabinet is required.
The EXCL gantry seamlessly integrates with all Festo pipette heads, including DHOP and the popular EHMD rotary gripper for decapping and capping. Festo components feature interoperability, which reduces engineering time and lowers risk.
The EXCL boasts an open-source motion and fluidic application programming interface for PC control with common programming languages such as G-Code. By utilizing a library of common drivers, Festo reduces the learning curve and enables OEMs to develop an optimized control strategy., and to do away with having to buy a generic machine and then adapt it to process their specific test or assay solution. Instead, manufacturers build a unique machine with world-leading Festo mechatronics with less cost and bother.
Festo ships the EXCL as a kit, ensuring fast, trouble-free assembly. Gantries come with a unique part number for each OEM, which lowers procurement time and simplifies reordering. Festo supports EXCL globally.
More Information
Related Story
Festo is highlighting several of its latest innovations in electric automation, including its unique Simplified Motion Series (SMS) at ProMat, the North American supply chain exhibition, held this year from March 20-23 in Chicago.