Compact Rail Plus: The Real Alternative for Linear Motion System Designers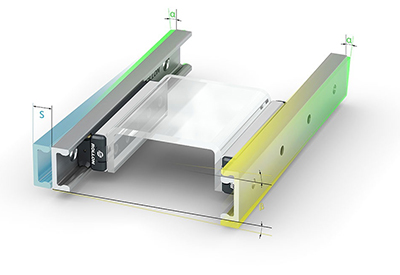 December 3, 2020
As of recently. Compact Rail Plus is Rollon's new model of linear rail. It was created to provide industrial designers with a new point of view for design. The Italian company have based their approach on a question to clients: "what are your needs?". The technological choices change significantly, depending on the answers to this apparently simple question. And so the best product to achieve a required performance level, depends on the answer to this question (along with the final cost of the application).
– "How rigid and precise does this new application need to be?"
– "How large are the loads that the rails must support?"

– "What level of reliability must be guaranteed over time, and in what working conditions?"
All these questions help to find the right solution.
The level of precision, for example, will impact the total cost of a machine or application (as we will see later on). Therefore, if the design phase starts off by choosing rails that offer high precision, designers will automatically start considering more expensive solutions that aren't necessarily tailored to the required performance.
This is the specific design requirement space, in which Rollon need to determine the real application needs, and this is where the new Compact Rail Plus is positioned.
Let's take a look at its characteristics.
The "Plus" refers to the product's enhanced load capacity compared to previous models, even though it's other characteristics already position it as "top of the range" in the Rollon family of products. These new linear rails boast a double row of ball bearings and "C" profiles with convex raceways (that are induction hardened, ground and available in sizes 18, 28 and 43 mm). This allows it to support up to 170% additional load in the axial direction – compared to similar sized products – and up to 65% additional in the radial direction when compared to the previous models. This high performance can then be combined with the another special characteristic that all Compact Rail linear rails feature: misalignment management.
Compact Rail Plus can compensate for up to 3.5 mm axial misalignment and up to 1.3 degrees radial misalignment. These numbers alone might not say much, but when compared to linear rails with recirculating ball bearings, they say quite a bit. This latter type, in fact, has tolerances defined in hundredths of a millimeter, which is much lower than Compact Rail Plus.
The combinations of these characteristics open up many opportunities for designers and companies. All applications that do not actually require the high precision and rigidity of recirculating ball bearings still suffer from the costs associated with preparing the mounting surfaces, the mounting time and the use of these rails. All this when they could easily just benefit from simplification of design, hence lower costs, and still the enjoy the performance of Compact Rail Plus.
Some examples?
From an application standpoint, Compact Rail Plus can be used in all industrial automation processes like packaging, pick and place as well as in automation systems for other sectors. They are useful in the medical sector, thanks to their smooth sliding movement, quiet operation, and the available corrosion prevention treatments. In the railway sector they are ideal for moving train and subway carriage doors due to their ever reliable resistance to shock and vibration and again their capacity to work in corrosive environments. Another sector for which they are a "natural" choice is the aerospace industry, where lightness and robustness are fundamental characteristics. The load capacity and misalignment management feature also make them the perfect solution for moving access ramps for the disabled.
Considering the features described above, in relation to the areas of application, it is easy to see how the new Rollon product offers unique capability. To add to this even more, Compact Rail Plus also has new self-centering raceway cleaners that can guarantee spotless raceways, combined with a new integrated lubrication system with slow release felt pads and front access for lubrication top-up, which extends the intervals between maintenance operations.
Compact Rail Plus has proven to be reliable in harsh and aggressive environments thanks to a selection of available surface treatments. These include RollonAloy, which is a passivated electro-galvanization treatment suitable for corrosive environments with humidity, Nickel plating for use in acidic or basic corrosive environments and ISO 2081 galvanization, which is the right choice for protecting indoor applications.
There is one more important factor in this rich list of advantages to keep in mind when designing a system: Compact Rail Plus is dimensionally interchangeable with the other Compact Rail versions, which guarantees operative continuity and maximum versatility.
Finally, what does this all cost? It was mentioned at the beginning that a correct understanding of the "real needs of the application" is crucial to choosing one product over another, and how this choice influences the cost of the entire project.
Is that really true? The answer is "yes".
The price of the rail itself is, in fact, only one component of a cost. Let's go back to the first example, the comparison of an application built with Compact Rail Plus vs. one using recirculating ball bearings. If you analyze the differences, you will immediately see how the design cost of a machine that uses recirculating ball bearings is much higher, due to the tight tolerance needed for the rails to perform at the highest level. That level of precision requires a greater degree of design and attention to detail compared to rails like the CR Plus, which gives the designer peace of mind and time for other matters, as it's able to manage misalignment on its own. Similarly, the cost of preparing machined mounting surfaces are higher if the machine requires higher precision, and lower if the rails can manage misalignment without it.
Self-alignment always guarantees savings in mounting time and hours of labor, and therefore ensures lower overall costs. Lastly, maintenance plays an additional role in lowering costs: solutions like Compact Rail Plus, which have self-lubricating systems and are resistant to dirty environments, require less maintenance and thereby reduce the overall cost even further.
In conclusion, Rollon hope that the reader can thus appreciate how the cost of a rail is not in reality the determining factor. The applicable advantages that it brings when you choose to use it, or not, is where the real consideration lies.