Compact Programmable IO-Link Master with Ethernet from Banner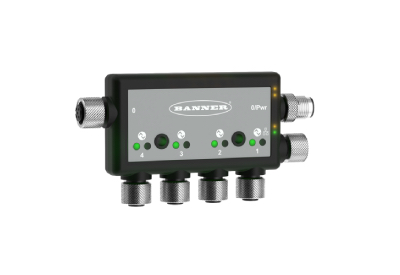 October 3, 2022
Banner's new DXMR90-4K IO-Link Master allows collection of factory data from IO-Link devices and sends it directly to cloud systems, PLCs, SCADAs, and HMIs. Both a part of the Snap Signal smart-factory ecosystem and compatible with industry IO-Link standard devices, it combines signals from four IO-Link ports and outputs process and diagnostic data via Ethernet IP and Modbus TCP/IP. The DXMR90-4K is also a self-contained controller offering the option of custom programmability.
Key Benefits:
The DXMR90-4K can integrate seamlessly into common controls platforms. Banner offers Add On Instructions (AOIs) to make integrating this IO-Link Master simple.
Slim Form Factor
The DXMR90-4K is compact and robust. Its housing has a depth of only 16 mm, and its IP67 and IP68-rated construction eliminates the need for an enclosure. It can be quickly mounted with two M4 screws and is powered through a standard (24V DC) M12 connection.
Send IO-Link Data Directly to the Cloud
While a controller for Modbus connections is also available, the DXMR90-4K is specifically designed to accept incoming IO-Link signals, without the need for an intermediary converter. Four built-in female M12 master ports receive IO-Link data and output that information to a 100 Mbps D-coded Ethernet connection. This makes it possible to transmit data to cloud networks such as Banner's own Cloud Data Services or Amazon AWS®, for remote monitoring of all connected devices. Data is transmitted using HTTPS or MQTT protocols for real-time analysis.
Applications
•Robotic end-of-arm tooling
•Material handling systems
•Condition monitoring
•Predictive maintenance
•Lean manufacturing
•OEE analysis and tracking
To learn more about Banner's new DXMR90-4K IO-Link Master, click here