Beckhoff to Showcase Cabinetless Machine Control, Adaptive Automation, and New Vision at ADM Toronto 2023
October 17, 2023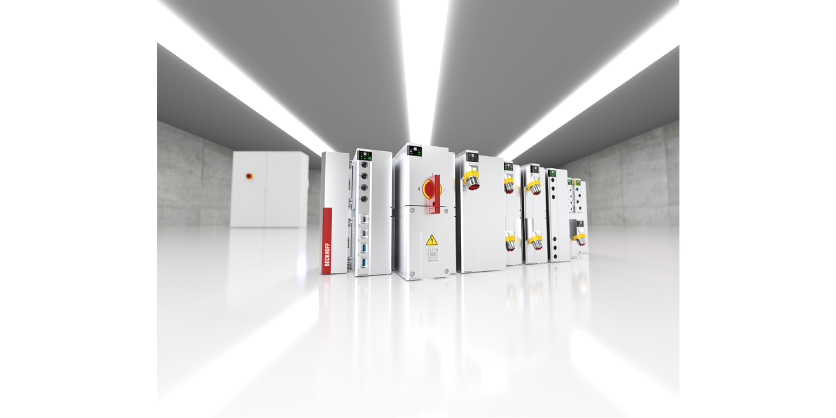 Based on flexible and scalable PC-based automation, MX-System, XPlanar, machine vision, and other innovations help empower Canadian leaders in packaging, food and beverage processing, pharma, and beyond
At Advanced Design & Manufacturing Expo (ADM) Toronto 2023, Beckhoff will showcase Canadian market leaders in packaging, food and beverage processing, pharma and beyond how to automate what's next. Visitors to Beckhoff booth #1205 will discover many revolutionary solutions in intelligent motion control and mechatronics as well as a wide range of Industrial PC (IPC), EtherCAT I/O, drive technology, vision, and more.
The future of machine design is cabinetless: MX-System
Eliminating electrical cabinets offers many advantages to machine builders, system integrators and equipment end users alike, including space savings, greatly simplified wiring, reduced installation effort and lower costs. Beckhoff has been focused on making the cabinetless machine a reality for years with innovations such as One Cable Automation with EtherCAT P, the AMP8000 distributed servo system and the C7015 ultra-compact Industrial PC, an IP65/67-rated machine controller. Now, the comprehensive, IP67-rated MX-System provides the next evolution in a complete machine-mountable control platform.
MX-System enables control cabinet-free automation solutions for the first time in machine and system engineering. In this sneak peek at ADM Toronto 2023, we will demonstrate how the MX-System provides a modular construction kit that combines all tasks and features of a machine's control cabinet. These include energy supply, fuse protection and distribution, generation and monitoring of auxiliary voltages, sequence control with the inputs and outputs, control of motors and actuators as well as the connection level for field devices. With MX-System, fabrication, metalworking and additive applications can now reduce control cabinet builds that previously took 24 hours to just one hour.
Revolutionize part, material and tooling transport with intelligent mechatronics
New concepts require dynamic motion, flexibility and scalability in production as well as automated transport between process stations. The XPlanar and XTS adaptive automation systems deliver competitive advantages in these applications. XPlanar replaces many functions of traditional material handling systems and robots with magnetically levitating movers, which offer zero friction, automatic collision avoidance, path planning, 360-degree rotation and zero wear on the system. The modular XTS propels movers with high dynamics, eliminates mechanical components and performs changeovers instantly via standard TwinCAT 3 automation software. Both improve uptime and the ROI equation, providing significant competitive advantages for wide-ranging industry applications.
Fully integrated Beckhoff Vision portfolio
The introduction of new cameras, lighting and lensing will enable engineers to implement robust image processing directly in a standard PLC environment with perfectly paired hardware. The new equipment complements the proven TwinCAT 3 software, which covers machine vision and all other areas of automation.'
Booth visitors will see how vision integrated deeply into the controls architecture, along with EtherCAT communication, powers real-time reactions and greater data transparency for better quality control, traceability and more.
A complete automation portfolio
Visitors to the Beckhoff booth can explore the deep, feature-rich portfolio from the pioneer in PC-based automation. Beckhoff delivers a fully integrated, flexible automation platform to optimize manufacturing from the shop floor to the cloud, including servo solutions of all sizes, wide-ranging EtherCAT I/O, TwinSAFE integrated safety technologies and inherently scalable IPC hardware.
Related Story
Beckhoff Vision now includes a complete hardware portfolio in addition to the TwinCAT Vision software solution that was introduced in 2017. From the very beginning, its development was oriented around an optimal design and concepts for industrial use. The expert jury for the renowned Red Dot Award recently confirmed that these goals have been successfully achieved as they honored Beckhoff with an award in the automation category. This prize is only awarded to products that have an excellent design. This was further confirmed with the iF Design Award Gold, the highest distinction in this competition.