ACTE CareerTech VISION 2022: Advancing Education and Training in Industry 4.0, STEM and Advanced Manufacturing Careers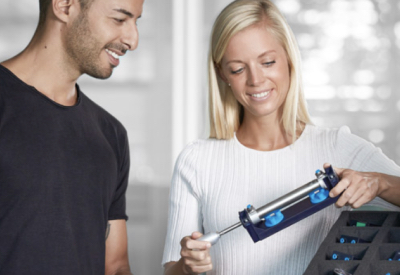 December 1, 2022
Festo Didactic, NC3 and partners came together for four days of I4.0 career and technical education to experience the future of work at the NC3 Classroom and Booth #1001.
In collaboration with certification entity NC3 and industry partners, Festo Didactic is pleased to announce that it co-hosted an interactive shared learning experience at ACTE CareerTech VISION 2022. The NC3 Classroom utilized the shared space among partners to provide a 360-degree introduction to Industry 4.0 education and training. It featured innovative learning equipment and systems from: Festo Didactic, Snap On, Lincoln, Emerson Copeland, Emerson Ridgid, and Emerson Greenlee.
On Wednesday, November 30, NC3, Festo Didactic and partners hed a special
pre-conference event
for CTE state leaders, administrators and faculty who are exploring how to increase their school outreach and recruitment pipeline, and engagement with local employers. This pre-conference event is also for instructors in both secondary and post-secondary trade and industrial programs looking to grow their current STEM and manufacturing programs.
"This is the first time we've had a format like this with our industry partners at ACTE and it's very exciting," said Octavio Rojas, Sales Director for Festo Didactic North America. "The NC3 Classroom will allow visitors to gain a comprehensive understanding of what industry-approved education and training looks like for advanced manufacturing and Industry 4.0 careers. Our education and training comes from industry, for industry, through education and certification."
Certification Classroom
Certification is a credential awarded by industry or independent organizations such as trade associations based on examinations that demonstrate mastery of knowledge and specialized skills. The purpose of Industry 4.0 certification is to ensure students and workers have the right skills for today's high-tech industrial careers. Visitors who come to the NC3 Classroom will have the opportunity to learn more about the educational value and employment benefits of Industry 4.0 certifications.
Festo's Industry 4.0 Certification Program (FICP) is a comprehensive program developed by industry experts and educators that ensures students have qualifying skills upon graduation, including soft skills such as effective communication, managing others, and critical thinking. FICP can be easily integrated with existing certificate, associate and bachelor degree programs, and offers four levels of certification including:
•STEM Lab Certifications
•Level One | Fundamentals
•Level Two | Advanced Mechatronics
•Level Three | Industry 4.0
FICP by the numbers:
•Over 10,000 certifications issued
•471 instructors trained
•22 certifications to choose from
•140 certification centers
Learn more at NC3.net and Festo.com
Festo Didactic Exhibit Features
Daily training sessions and demos led by: Tony Oran, Octavio Rojas, and Darrell Dayton.
Festo Didactic, an education company with deep roots in manufacturing automation, leverages its industry expertise to offer a wide range of learning solutions that support skills development in all aspects of mechatronics and factory automation. Come see how Festo's industry-simulated learning equipment helps students and incumbent workers gain the hands-on experience they need to qualify (and upskill) for competitive advanced manufacturing careers.
With learning systems in Factory Automation, Festo offers qualification topics such as: sustainability through energy measuring, energy efficiency, individualization with mobile or collaborative robots, (intra)logistics, digitalization focusing on data acquisition, evaluation and storage, big data, artificial intelligence, machine learning and digital twin.
Visit us at Booth #1001 to interact with various learning systems and visualization tools that promote an overall systems approach in manufacturing education including:
The MecLab
The Festo MecLab introduces industrial automation to students. Trainees can assemble, integrate and program components to create an automated system that's capable of completing a specific task. Programming is done via FluidSIM software which assists students in the software integration of PLC coding via the Siemens TIA portal.
STEM Education with Robotics
A new robotics solution developed by Festo will be available to preview at the show and will hit the market in early 2023. Integrates with MecLab.
The SkillsConveyor
The SkillsConveyor is the universal foundation of our solution offering for basic training in the fields of automation technology and mechatronics. In close cooperation with our customers, we have developed a modular and ergonomic learning system which allows learners to acquire essential skills in mechanical and electrical commissioning as well as sensor and control
technology. The learning system is suitable for use in both, single workpiece flow and goods carrier flow with pallets. In its basic version, the SkillsConveyor already has an integrated control box and an intuitive control panel with various connection options. Diverse expansion possibilities allow the gradual extension with individual learning scenarios.
Festo's Cyber-Physical Lab
The Industry 4.0 Cyber-Physical Lab with UR3 Robot has real industrial advanced technology components such as PLC, HMI, MES. Augmented reality features as well as instructions via mobile devices will assist learners in taking their skills into the 4th industrial revolution.
Safety Awareness Bundle
Festo and SICK Safety created a Safety Awareness Bundle that combines curriculum and hardware. The content of the curriculum focuses on robot risk assessments, in-depth data collection and dissemination, as well as the implementation of the whole system approach versus automation à la carte (Industry 3.0). Through SICK's 6-Steps Method, students and professionals can learn how to identify hazards, quantify risks, and achieve safe machinery.
I4.Core
A curriculum and career pathway that compliments the foundational core competencies that employers consider essential for candidates to excel in advanced Smart Manufacturing work environments. I4.core encompasses a blended skillset including: Mechanical, Electrical, Inputs and Outputs, HMI, PLC, MES, and Risk Assessment. I4.core connects teachers and subject matter experts from across grade levels and job roles to look at a standardized plan of progression that will lead to innovative problem-solving techniques which will enhance our efficiency and growth across all disciplines.
TP Americas Portable
With our new portable case, you can teach pneumatics from anywhere. In a lab, meeting room, outdoors or even at home, the training packages on wheels are 100% mobile. Use learning spaces more efficiently and easily change up your teaching environment.
Basic Motor Control Technology – New Portable Case
The Basic Motor Control Technology learning system builds knowledge and skills in the fundamentals of industrial electric motors controllers. A wide range of hands-on learning activities optimize the development of technical knowledge, as well as soft and
troubleshooting skills – the prerequisites for a good preparation for the workplace. Available as a portable suitcase and/or modular system compatible with other learning solutions.
Festo LX
The Festo Learning Experience (Festo LX) is a new digital learning portal that offers comprehensive learning content for technical and industrial education. Festo LX takes a flexible, microlearning approach supported by multimedia learning nuggets. These "bite-sized" learning exercises can be customized and combined to map out complete individual learning pathways.
Festo will be launching course dates for 2023 shortly, please refer to their website in January for more information. Technical education | Festo CA
Source