AC SMART. Charging Electric Vehicles in a Smarter Way
March 15, 2023
Charging electric vehicles in a smarter way
The new AC SMART EV charging box family from Weidmüller
The number of people planning to purchase an electric vehicle is growing. As a result, the demand for charging infrastructure is also increasing. Charging stations need to be not only reliable and convenient to use, but also support additional functions beyond just charging. Weidmüller developed the new AC SMART charging box family to meet these requirements. The new charging boxes can be used for classic charging at individual charging points but are also suited for charging parks and can be integrated into smart grids.
However, the AC SMART family also offers integrated LAN, WLAN and Bluetooth interfaces, a mobile app and an optional wireless module (4G/LTE), MID conforming consumption data recording, or innovative Powerline communication with the vehicle, making it a comprehensive and pioneering charging solution for private or commercial applications.
Strong growth in e-mobility
The number of electric vehicles has grown sharply in recent months, and more and more people are considering purchasing an electric car. Based on current projections, the share of electric vehicles will be 11.1 percent in 2025, and as high as 24.4 percent by 2030.[1] This will require rapid expansion of the charging infrastructure. Effective and efficient charging stations will be required for this purpose that are able to address all needs and requirements of users – while remaining flexible enough to meet the demands of the future.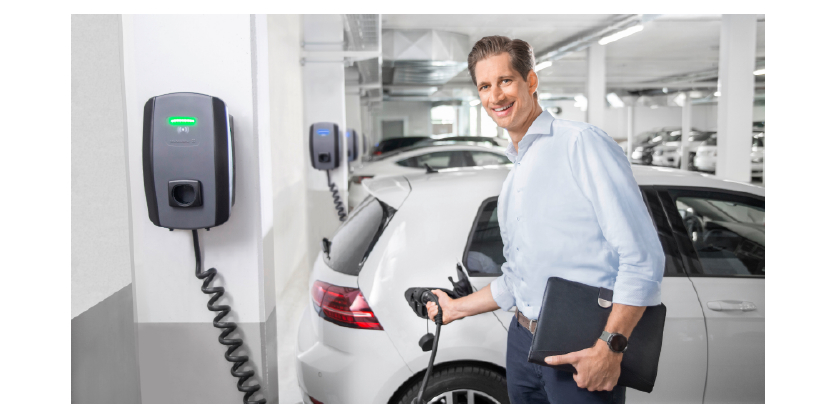 Intelligent and flexible: the new AC SMART EV charging box family
The new AC SMART EV charging box family from Weidmüller is suitable for any application in the private and commercial sectors. The EV charging boxes are designed to meet a wide range of demands and are available in versions from 7.4 to 22 kW. They can be used as classic single solutions, for instance in private garages, or networked with a smart grid. This means that the EV charging box can be integrated communicatively into the energy grid to provide an intelligent connection for power generators and consumers. Its dynamic load and charge management capabilities allow for optimal use of the generated power.
Thanks to its intelligent networking capability, the AC SMART is also suitable for use in charging parks. LAN, WLAN, and Bluetooth interfaces are integrated into the EV charging boxes as standard. A convenient smartphone app and the web server integrated into the boxes simplify configuration, allow for status monitoring, and make it possible to grant charging release, for instance via RFID or Powerline communication with the car. The updating capability of the runtime system ensures that the box remains future-proof. AC SMART is the only box of its kind on the market to offer these features.
Sustainable concept with comprehensive expansion options
With the three equipment lines ECO, VALUE and ADVANCED, AC SMART covers the most common applications. In addition, AC SMART is highly sustainable, thanks to its high-quality components and materials, certified production and installation and user-friendly housing concept.
Benefits for users, operators and installers
Whether owners of single-family homes or multi-family buildings, business owners or employees in installation and maintenance companies: the AC SMART EV charging box family addresses the needs of different target audiences like no other charging concept on the market. It offers many benefits like a convenient operation, intelligent networking and an appealing and well thought out design, which makes installation and maintenance particularly easy. Its flexible configuration and high future viability allows expansion options and updates. With all these advantages, the new AC SMART EV charging box family from Weidmüller is sure to be a success.
Related Story
Shelley Automation will market Weidmüller's complete portfolio in the Ontario region. That includes I/O systems, industrial Ethernet, relay modules, and power management, to name a few.