Yaskawa's 9 Key Factors for Cobot Welding Safety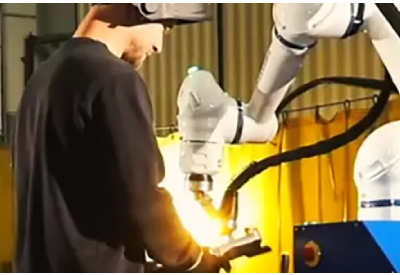 May 9, 2022
The development of user-friendly technology continues to spark greater confidence among business leaders for the implementation of robotic automation. Highly flexible and capable of optimizing production, more affordable easy-to-program collaborative robots – or "cobots" – are quickly becoming the "go to" for a variety of tasks, including arc welding.
Regarding the latter, advances in cobot designs including cast aluminum construction, easy-to-clean surfaces, longer arm reaches, and higher payload capacities are especially beneficial. So much so, that cobots with industrial pedigrees are expected to be the fastest-growing segment for collaborative robots through 20251.
Once relegated to a very basic collaborative robot with lower feature semi-automatic weld equipment, today's welding cobots offer quite the dichotomy. Feature-rich power supplies and intuitive pendant applications are now assisting robust cobots. Whether supplementing manual welding or being rolled-up to large, heavy workpieces, extremely versatile collaborative robots are making highly relevant applications come to life, especially for high-mix, low-volume production environments.
This has brought the issues of collaborative robot safety to the forefront, and it is well worth addressing, especially for those branching into robotics.
Cobot Safety 101
One of the greatest benefits cobots have to offer is that they provide the ability for humans to work with or near robots. However, using a collaborative robot in name and design is not enough to make an application safe. For an application to truly qualify as collaborative and deemed safe, the entire robotic system and application must be addressed. This includes the robot, workpiece, robot work area and even the end-of-arm tooling (EOAT). If any of these critical areas fail to meet specified safety standards during a risk assessment, then the application cannot be approved as collaborative – unless identified risk is mitigated appropriately.
Collaborative Welding Tips
When it comes to optimizing robot usage, safety should not be overlooked. To achieve peak performance and the best robot work area possible for your application, consider the following factors:
Overall Environment – while robots are extremely effective at tackling risk-intensive tasks, they can also pose their own set of concerns that should be addressed before operation. Part of this includes being sure the general workspace is robot friendly. There should be no presence of things like explosives or falling hazards, like a typical welding environment. If tripping on robot cables or slipping on weld spatter is a concern, be sure to implement the proper peripherals needed to mitigate those risks.
Robot Stability – with any robot, it is an absolute must that a collaborative robot base or cart is properly secured per the supplier's standards. Doing this should confirm the proper center of gravity, so that the robot cannot slip. Where carts are concerned, wheels should be locked tightly to prevent any movement (or oscillation) as the robot is trying to weave.
Robot Movement – extremely important to the success of an application is the robot's ability to move freely from point to point, while adhering to the utmost safety. It is highly suggested to use a cable management device for torch cable protection. This will alleviate cable interference during programming, as well as prevent false PFL stops on the robot. Either an on-arm device or a cable balancer for overhead cable management is ideal. The latter can help expand the robot work area, as needed.
Something else to be mindful of is sharp wire. Workers and bystanders need to be clear of the work zone during the weld process to avoid collision and potential harm. Likewise, workers should not attempt to hold a weldment in place or grab it while the robot is moving.
Safe Fixturing – as always, to achieve the best part quality in the safest way possible, having the proper weld table or fixture is key. Most parts welded with cobots tend to be lower volume, high variety parts. Fixturing for a cobot is often achieved by means of an existing weld table and clamps. New fixturing software, like Camtec, offers manufacturers a cost-effective way to produce a stable fixture that is well-suited for collaborative welding.
Note: collaborative robots currently do not offer external axes compatibility, so applications requiring the use of specific positioners for coordinated motion or a robot track need to be mitigated by fencing, light curtains or other means. While items such as fencing may result in additional upfront cost (sometimes 20% of a work cell's overall cost), it is often the simplest and best way to mitigate common risks.
If the use of safety fencing is inevitable – due to cycle time requirements or part turning specifications – a positioner may be in order. If so, positioner size can make a difference. For example, a Ferris wheel RM2 positioner with a two-station design is more space efficient than an H-frame turn table, optimizing floorspace utilization. The right positioner can also go a long way to meeting strategic company goals for the number of welded inches per minute (ipm).

Fume Extraction – whether they are close to the process or not, protecting human workers from harmful fumes throughout the facility is of the utmost importance and often required by local safety regulations. Widely used for manual weld processes, ambient air extraction systems and hood fume collection systems can still be used for a variety of robotic welding applications today. However, each demands a unique set of criteria that may hinder certain collaborative processes.
For example, ambient air filtration systems seek to filter all the air within a facility. For large facilities separated by columns, walls, or even large machinery, this can present a huge risk – as these objects can trap air, causing "dead zones" or pockets of poorly filtered air. While highly effective for the right application, hood fume collection systems also present risks under certain circumstances. For example, if a cobot is being rolled-up to a large workpiece that requires placement via an overhead gantry, a hood is typically too small to accommodate the filtration process needed. Add in other factors like the upfront capital required or monthly energy consumption costs, and these systems are not always ideal, especially for collaborative weld jobs.
Enter the concept of source capture robotic fume extraction. To provide customers with an easier to implement and more economical solution, innovative weld equipment suppliers now offer fume capture at the source. Most beneficial for these systems is their ability to keep up with the higher duty cycles and throughput requirements of robotic welding. These options work at the torch level and feature filtration packs that can "ride along" with collaborative robots. The plug and play ability of source capture devices is especially helpful for welding large parts for heavy fabrication, as well as on-demand supplemental welding.
Arc Flash – as in traditional welding environments, manual welders should mitigate arc flash and UV exposure via personal protective equipment (PPE). Safety arc flash curtains or other barriers should also be put in place, when needed, to protect bystanders.
Additional Safety – depending on application requirements, additional safety measures may help. An interfaced stack light mounted on the robot cart or nearby can assist to visually confirm the status of a robot, as well as provide sufficient warning to those close to the work area that the robot is about to weld. This allows workers and bystanders plenty of time to look away from the arc or get out of the way. Tone-emitting or "talking" versions that give audible commands are also available.
An extra mode of collaboration to increase speed and mitigate risk, an area scanner may also be used to make sure no one is immediately around the robot before or during welds. Typically involving one to two area safety scanner units mounted below the robot, this allows the cobot to move at full industrial speeds until the protected area is broken. Newer units can also establish zones for multiple steps of safe speed options, optimizing things like air-cut speed. Additionally, area scanners are more resistant to weld spatter and smoke.
E-Stop Device – every robot system must have a fail-safe way to stop for any level of emergency. Often triggered by an external emergency stop (E-Stop) push button or an output from the safety controller, knowing how to activate this, if needed, is a must.
Proper Training – no matter the collaborative system chosen, proper employee training should be offered. Yes, a cobot offers a lot of ease-of-use abilities, but it is still a machine that is best (and most safely) used with some know-how. From basic programming to robotic welding and maintenance, Yaskawa Academy offers over 75 different robotics training courses to maximize robotic equipment performance for both beginners and experience users.
To aid novice robotic welding professionals, a trifecta of programming options also exists. Options such as lead-to-teach or I/O jogging from a momentary command device may provide a faster more intuitive way to change things like torch angle and tooling coordinates. The Universal Weldcom Interface (UWI) can also help fill in the knowledge gap, enabling full utilization of advanced capabilities on any brand of digital welding power supply.
Experience Safe Collaboration
Whether a small- to medium-sized shop is working around space constraints or a Tier 1 company is looking to measure production value per square inch, collaborative robots can help. Conducting a thorough site audit with an experienced robot supplier or integrator can answer a multitude of questions, as well as address issues concerning safety standard compliance.

To gain straightforward advice on optimizing your fab shop with flexible cobots, contact Yaskawa today by clicking here
1 Global collaborative Robot Market, Statzon, 2021