Perforex Milling Terminal MT – The Drilling and Milling Centres from Rittal Automation Systems
October 5, 2023
Automated solutions for mechanical machining? – Sure! Minimise process times with maximum precision. Our machines work quickly, precisely and highly efficiently. Benefit from the new features for your housing and flat part machining:
1. In-process control of tool condition
2. Automatic tool length calibration
3. Improved swarf cleaning for reduced cleaning effort
4. Various operating modes
5. Profitable even with a batch size of 1
6. Data consistency thanks to diverse interfaces
More Information
Perforex Milling Terminal MT S
Related Story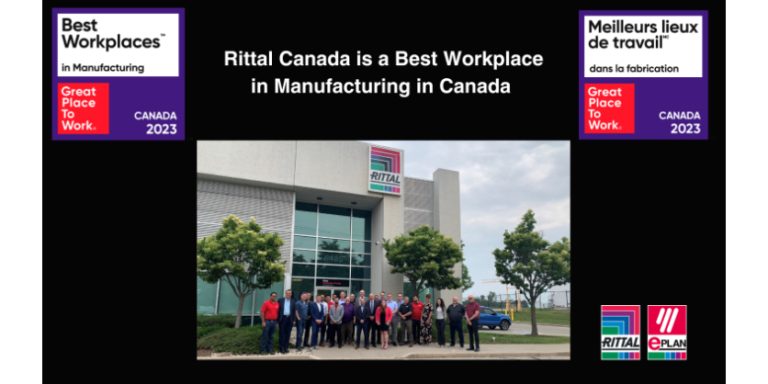 Rittal Limited is proud to announce that their organization has been named on the 2023 Best Workplaces in Manufacturing in Canada list, for the sixth year in a row.
André Bousette, President, Rittal Limited says, "Rittal is so honoured to obtain this recognition as a Best Workplace in Manufacturing in Canada, especially because it reflects the opinion of our own staff that has been independently obtained by this recognized organization. Rittal is committed to being a Great Place to Work, and the well-being and satisfaction of our staff is our priority. It's great that we are able to celebrate this honour today with Andreas Ruzic, Executive Vice President of Rittal North America and Chief Executive Officer of Rittal USA, Raphael Gorner, Executive Vice President BU Energy & Power Solutions, as well as our Sales teams from all over Canada, who are here for our Annual Sales Conference. It has been a week of team-building and camaraderie, and we are glad that we can all celebrate this award together!"