Hirebotics' New Cobot Welder, Powered by Beacon, Delivers Advanced Robot Welding Via Easy-to-Use Smartphone Application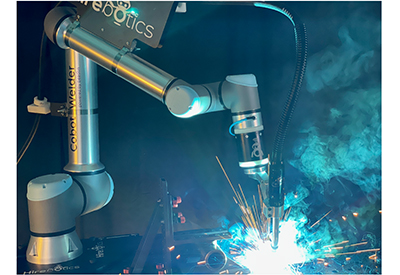 April 23, 2021
Hirebotics' Cobot Welder, Powered by Beacon, is a complete, user-friendly collaborative robot (cobot) welding system that enables painless automated welding deployments. "The Cobot Welder is a major leap forward in easy-to-use welding automation that combines industrial grade robot welding functionality with consumer level ease-of-use and a phenomenal price point," says Rob Goldiez, Cofounder and CEO, Hirebotics.
The online launch event will include a demo of the Cobot Welder system in action and a live Q&A session, providing attendees with an opportunity to see how easy it is teach new parts and welds using the ingeniously simple Cobot Welder cellphone application that runs on Hirebotics' cloud-based Beacon software platform. Beacon, which Hirebotics launched in 2020, is a UR+ certified, powerful platform for cobot application building and remote cobot monitoring, maintenance and 24/7 global support.
When: April 28, 2021, 2-3PM EST
Where: Online launch event, register here: urrobots.com/hirebotics
Complete and ready to go right out of the box, Cobot Welder provides all the hardware and software required to get started on an automated welding deployment, including: a UR10e collaborative robot, a Miller Invision 352 MPa cobot package, a Tregaskiss robotic torch, a mobile cart with a standard 5/8" diameter on 2" center hole pattern, and Hirebotics' ingenious Cobot Welder smartphone application.
"With Cobot Welder, Hirebotics has managed to eliminate the pain points from robot welding system deployments. At the heart of the system is our Cobot Welder smartphone app, which turns welders into robot programmers in a matter of minutes, no pendant required," says Mitch Dupon, Director of Business Development at Hirebotics. "By reducing the time taken to teach new parts by as much 60%, Cobot Welder reduces downtime, improves welding quality and productivity and ensures painless automated welding deployments. I'm excited to talk about this and the other productivity benefits provided by Cobot Welder at the forthcoming launch."
Joining Dupon at the launch event is Joe Campbell, Universal Robots' Senior Manager of Applications Development & Strategic Marketing, North America. Campbell is a 40-year robotics industry veteran and an expert in collaborative robot deployments.
"The welding profession is experiencing a labor crisis. The average age for skilled welders is 55, most are likely to retire within 10 years, and younger people aren't entering the profession in sufficient numbers to sustain industry demand," he says. "There is an urgent need for collaborative welding systems that are safe to use around human beings and can be used to support expert human welders by taking over the tedious and unergonomic aspects of the welding process," says Campbell, who encourages small to medium size businesses in particular, to attend the launch event and check out the demo of the Cobot Welder system in action.
For more information, visit www.hirebotics.com or www.universal-robots.com.