Festo Didactic at the Forefront of Developing Canada's Future Work Force
December 15, 2022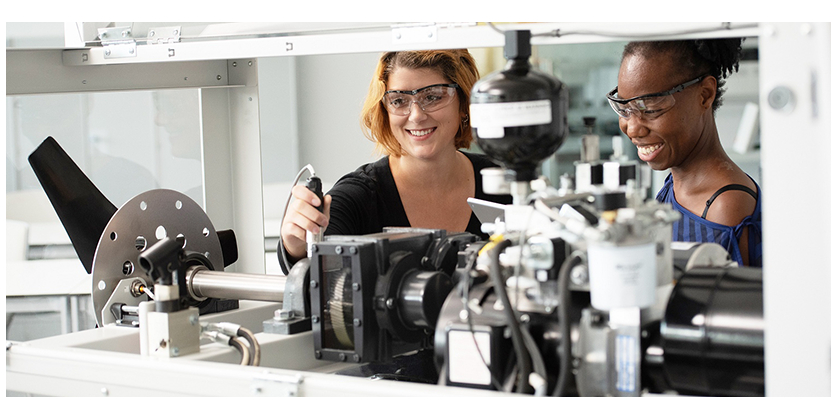 With Canadian manufacturing suffering from a growing labour shortage, the participation of industry in skills development is emerging as a vital component in hiring and retention. The needs are stark: The Canadian Exporters and Manufacturers Association says almost 40% of its members have jobs they can't fill. Five years from now, 60% expect to be short-staffed, especially when it comes to skilled trades. Statistics Canada forecasts the country's labour force growth rate will remain below 0.2% for the rest of the decade, below replacement levels.
This growing shortage is affecting companies of all sizes. Already, some manufacturers acknowledge losing out on contracts because they can't find the manpower to fulfill them.
In reality, the challenge is two-fold: to replenish and expand the workforce to help close the gap between the number of job seekers and vacancies through 2030 when the last baby boomers reach age 65, and ensure workers get opportunities throughout their careers to upgrade or add to their skillset as current technologies evolve and new ones emerge. Festo, through Festo Didactic, one of the world leading provider of equipment and solutions for technical education, intends to help Canada meet this challenge on both fronts. In essence, the approach Festo has always taken is that the learning never stops.
"The knowledge and skillset one has when they enter the work force today will need to be updated throughout the course of their career to account for the changing nature of work," says Greg James, regional sales manager for Festo Didactic. "With the onset of digitalization in manufacturing, change is happening at an accelerating pace. Workers and employers will need to keep up. So will educational institutions, to make sure their courses are preparing students for tomorrow's world, not yesterday's. That's part of our focus at Festo Didactic – helping the education sector evolve with these changes."

Greg James, Regional Sales Manager for Festo Didactic
Festo Didactic has made a focus on the need for recurrent education for existing workers so their skills remain relevant. How that's done is evolving. Classroom work is still very important at the college and university level where it promotes experiential learning. However, digitalization is how we can learn new skills or refresh old ones. "For example, we know people have more demands than ever on their time and it can be difficult to sign up for courses on set schedules determined by the teacher, employer or institution," says James.
"That's why we developed Festo LX, the new online portal for teachers and learners where they can engage in customized learning experiences that aren't tied to being present in a physical classroom according to a rigid schedule. It's suitable for students and workers alike, for teaching basic or advanced skills or for those who want to refresh or extend their skillset. The available content is continually expanding."

Greg James, Regional Sales Manager for Festo Didactic
For classroom and training rooms, Festo Didactic's workforce development portfolio uses blended learning systems which include hardware, software, as well as Festo LX. It includes comprehensive training solutions ranging from individual learning systems, complete workstation systems, training packages, and learning factories like the Cyber-Physical Factory, a modular and expandable factory model for Industry 4.0. Festo Didactic also offers software, eLearning, and courseware designed for a wide range of technology fields. Festo's solutions cover complex subject matter taught in a clear and practical way.
Festo Didactic has been expanding its presence in Canada's technical training sector with partnerships like that forged with the Barrett Centre for Technology & Innovation at Toronto's Humber College. These collaborations include outreach programs to high school students to consider a STEM career, I4.0 educational events and the co-delivery of Festo branded courses.
The colleges also work with industry partners, Festo Didactic, to provide micro credential programs
Other initiatives from Festo Didactic for developing the future workforce include partnerships with the NC3, the National Coalition of Certification Centres. NC3 implements and sustains industry-recognized certifications built on national standards. Festo's Train-the-Trainer program helps instructors from partner schools implement and teach courses and certifies that all instructors are delivering the same level of qualification. Last but not least, the Festo Industry Certification Program ensures potential employers that new graduates have the skills to do the job for which they are applying.
Related Story
Employers and educational institutions need to promote manufacturing and realign the workplace and training environments to create the workforce that is needed to fill the gap that exists in manufacturing. Steps that can be taken today include promoting manufacturing careers to youth, refocus Canada's education system to connect youth with jobs, upskill workers, and attract under-represented groups into manufacturing.
The good news is, is that some of the most leading companies involved in manufacturing are taking these steps (and some having started decades ago), and they are working with educational institutions and governments to fill the skills gap that manufacturing is experiencing today. Festo is one such company who has been leading the charge for technical education at a global scale.
In this article, Greg James, Regional Sales Manager – Festo Didactic Ltd. shines some light onto what is being done in Canada to help ensure there are enough skilled workers available to keep the factory of the future running.