FachPack 2021: Schmalz Reaches for Safety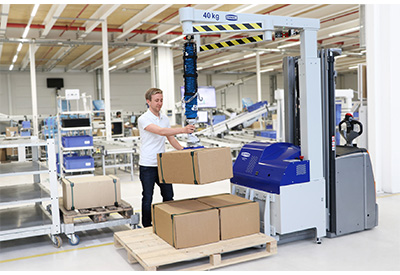 September 2, 2021
Picking and packing go hand in hand at FachPack 2021. At the Schmalz booth 4-245 in Hall 4, a lot will therefore revolve around manual handling: The JumboFlex will be mobile, can weigh and will be equipped with a new special gripper. From the field of vacuum automation, solutions for gentle food handling and gripping of workpieces regardless of their size and geometry will be on display.
"Environmentally friendly packaging" – the leading theme of FachPack (September 28-30, 2021, Nuremberg) once again emphasizes the important role that the topic of sustainability plays in the packaging industry. At its trade show booth, J. Schmalz GmbH is proving that ergonomic and safe handling solutions are also available for recyclable cartons and packaging made of resource-saving materials – and virtually everywhere thanks to the new JumboFlex Picker. This is a self-sufficient solution for mobile picking of packages weighing up to 40 kilograms. To do this, the user forks the picker onto his floor lure and drives to wherever he needs the ergonomic support for lifting, stacking and palletizing.
Lifting and measuring in one go
Schmalz has integrated a load cell into its tube lifter in order to speed up the internal transport of goods, especially in incoming and outgoing goods. With the new JumboFlex Weight-Control, the user determines the weight of the load directly during lifting. He can also define weight limits in advance and thus detect good and bad parts more quickly. An LED light strip signals when these limits are exceeded or not reached.
Another innovation is the KLT gripper for Schmalz' vacuum tube lifters. It will make handling rigid R and double-walled C small load carriers easier and safer. This is ensured on the one hand by its patented centering aid and, on the other, by a locking mechanism that prevents accidental release of the load during handling. The KLT gripper will be available in two variants: for 400 x 300 and 600 x 400 millimeter boxes.
Gripper solution for sensitives
Even though Schmalz is giving precedence to manual handling at FachPack, the vacuum expert is also presenting interesting vacuum automation products: The OFG finger gripper gently places foodstuffs of various shapes in cartons or trays. Its four silicone fingers grip positively and are so delicate that they can place products such as chocolate kisses or peppers close together. While the OFG grips everything from sandwiches to chicken drumsticks, another exhibit specializes more in dry foods such as baked goods or sweets: the SFG flow gripper. It generates a gentle vacuum with the aid of the Coanda effect and thus handles delicate foods with minimal surface pressure – regardless of whether the surface is smooth or, as in the case of wafers, highly structured.
The FQE large-area gripper is a particularly flexible gripper for sensitive products from the automotive, glass or electronics sectors. Schmalz sees it performing fully automated pick & place tasks on collaborative robots or in end-of-line packaging in intralogistics. Its advantage is that it grips workpieces from various pickup positions, regardless of their size and geometry.