Bearing & Power Transmission Buyers & Suppliers' Meetings 2022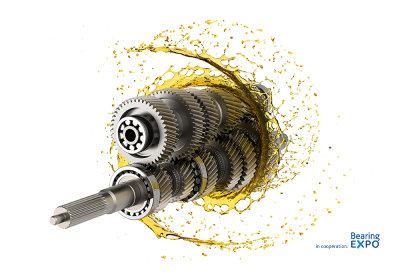 February 24, 2022
In an effort to support the PT/MC buyers and suppliers worldwide, BearingNews, Motion+Drives magazines and BearingExpo have joined their forces to offer a unique all-year event format – iMotion Events.
This new event format allows participants to schedule all year long meetings to promote their solutions, connect with new suppliers, discuss actual procurement, supply chain and technical topics with experts. Apart from the all-year meeting scheduling and networking features; six different industry sessions will be hosted on different dates during 2022.
The first event will be the Bearing & Power Transmission Meetings starting on 21 March, followed by five more events during 2022, where the attendees will have the same options to meet and connect with the PT/MC community and procurement professionals from the Agriculture, Mining, Food & Beverage, Manufacturing, Marine & Offshore and Steel industries.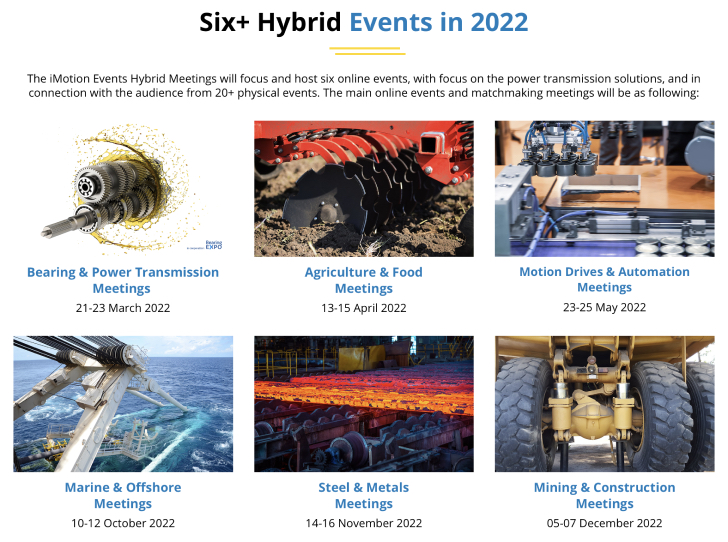 This event will include:
1. A full year video meeting scheduling option with attendees, starting from 2 weeks prior to the first event on 21-23 March
2. Receiving notifications by email for meeting invitations, without the need to access the event platform
3. Exhibitor participation, with full year visitor contact details collection and metrics
4. Full year company introduction incl. products, services, videos, brochures, booth staff contact options, company contact details, social media and instant booth messaging, video meeting scheduling / chat options
5. Conference and "ask the expert" panels designed for PT/MC professionals related to actual supply chain, technologies, solutions, technical and commercial presentations
6. Attend six events with one single account on different dates with focus on PT/MC solutions for Agriculture, Food Production, Marine & Offshore, Automation, Mining & Construction and Steel industries
7. Search and filter on attendee profiles and instant messaging / video meeting invitation options (any time during 2022)
8. Networking features in game format
Don't miss this unique opportunity and book today your participation as an Exhibitor, Sponsor, B2B attendee or Speaker. More details can be found at www.iMotion.Events or by clicking here
Register Here to join the all-year PT/MC industry meetings