Rittal Presents the 2022 'Women in Tech' EFC Scholarships to Ashlin Malik, University of Saskatchewan and Laura Yang, McMaster University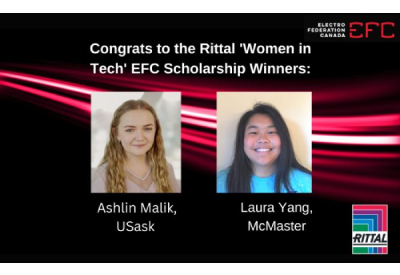 November 7, 2022
Rittal's annual 'Women in Tech' Scholarships are so important as they recognize that women have a vital contribution to make in the fields of Science, Technology, Engineering and Mathematics (STEM) fields. Rittal Limited is so pleased to have pioneered this scholarship in 2019, and continues to award the Electro-Federation Canada 'Women in Tech' Scholarship annually, to deserving women to help them to pursue their dreams in the Electrical Industry.
André Bousette, President, Rittal Limited, "Rittal is pleased to present our 2022'Women in Tech' scholarships to these bright young ladies – Ashlin Malik of the University of Saskatchewan and Laura Yang of McMaster University, who are both excelling in their engineering studies, as well as playing important roles as ambassadors for women in the engineering field. We are glad that Rittal can contribute to the bright futures of these worthy winners, and we encourage them to keep following their dreams and advocating for women in the electrical and manufacturing industry."
Presenting the 2022 winners of the Rittal Women in Tech Scholarships:
Ashlin Malik, University of Saskatchewan
Ashlin Malik is currently studying Electrical Engineering at the University of Saskatchewan. Ashlin has a great track record in the electrical/engineering field so far, as proven from her education, employment, activities, certifications, and we are sure that she will be a great asset to this field with her enthusiasm and dedication.
Ashlin says, "I have had experience working with many kinds of engineers, and I have come to enjoy the math and logic behind many electrical processes. I am interested in the power stream of electrical engineering because I get to be involved in building systems design. I have found power design to be the most challenging yet rewarding aspect of the overall design process. I would like to thank Rittal and EFC for this scholarship that will help me follow my dreams in becoming a professional electrical engineer like my dad."
Watch Ashlin's full video here.
Laura Yang, McMaster University
Laura Yang is a student athlete studying Mechatronics Engineering and Management, as well as playing varsity water polo at McMaster University. Her future goals include being an aerospace engineer and working on space-related projects.
Laura says, "I am very grateful to have been awarded this scholarship from Rittal and the EFC. With a passion for software and robotics, I am excited to implement the skills I've learned into my future career. I enjoy spending my free time as a mentor and ambassador for the McMaster Faculty of Engineering, Women in Engineering, and the McMaster exchange program. I believe it's important for future generations to see diversity in any field, especially engineering. While talking with younger students, I've been able to share what it's like being a woman in engineering, a varsity athlete, and give tips for success in academics and searching for successful careers".